5 of My Favorite Restaurants in Jacksonville, FL
Last Updated on July 2, 2022 by Team HH
I moved to Jacksonville in October 2015 after me and Awad got married. After spending 6+ years there, I have tried many restaurants and compiled a list of 5 of my favorites that we tend to frequent. We are regulars at all of these spots and I know you'll love them as much as we do. This small guide doesn't have too many pictures, I actually had to scour my photos and previous Instagram stories to find the few pictures I have here. Check out their websites and Instagram pages to get more visuals of their amazing food! And tag me if you check these places out!
1- Domu (Town center)
Domu is one of my favorite ramen restaurants in Jacksonville. Their concept started in Orlando and I was so excited when they opened in Jax! They make their own noodles and their broths are rich and flavorful. My husband usually goes for the Richie Rich and I love the Spicy Curry ramen. They also have some classic ramen options like tonkatsu and shoyu, and a vegan ramen that I love! Their wings are AMAZING! Like, probably my favorite wings of all time. They're extra crispy in a kimchi butter sauce and I promise, you will be licking the plate clean. I would come here just for the wings alone, they're that good.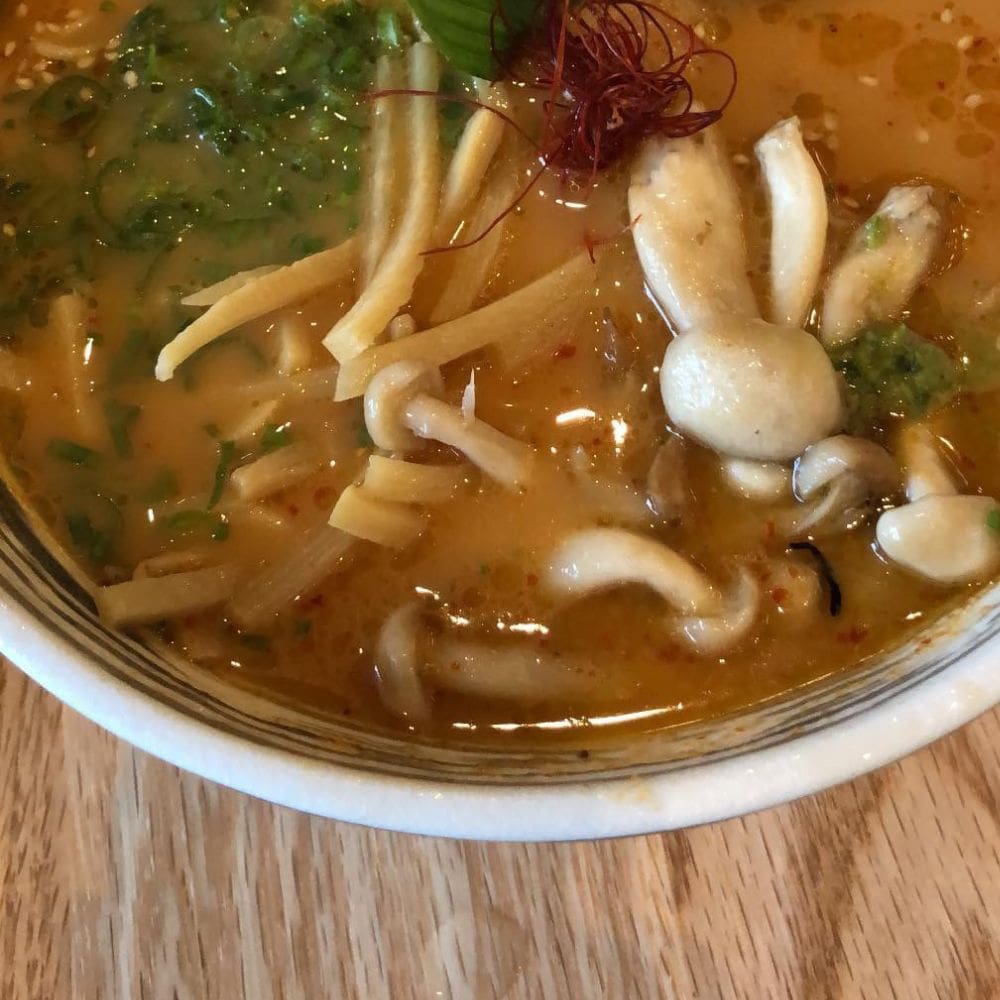 2- Blue Orchid Thai (Southside):
Our favorite Thai restaurant in the city. They now have a location in Riverside as well! There are certain things on their menu that you can't always find at other Thai restaurants like chau muong – a light dumpling colored with butterfly pea flower and filled with a sweet and savory filling of chicken, coconut and sesame seeds, or their Thai tea creme brulee. This restaurant also happens to make my favorite crab rangoons. The food here is fresh and flavorful and the service is always on point.
3- Damaksino (Southside)
This restaurant has my favorite chicken shawarma in Jacksonville. I based my recipe for chicken shawarma on the flavor from this one. Their fries are also extra crispy and seasoned which make them literally irresistible for me. Their chicken kebab is juicy and tender and their rice is fluffy, my kids can eat and an entire order of this. While you're there, make sure to get some atayef – stuffed pancakes with walnuts and coconut and fried to golden perfection. Side note: My daughter has a sesame allergy, and I love that they take special care in making sure no cross contamination occurs with tahini, hummus or anything else containing sesame in the restaurant – this is also a HUGE reason this restaurant is a go-to for us, along with their delicious food. 
4-Bit of Saigon (Southside):
Hands down, the BEST pho in Jax. To be honest, it's probably the best pho I've ever had. Even in San Diego, I search for pho as good as it is here and have yet to find anything that compares. It's a family owned and run business and the owners are so nice! Their chicken and veggie pho are both incredible, light and flavorful. I love the bits of ginger you find in their broth. Their vermicelli salads are also delicious – the chicken one is my favorite. Make sure to ask for their homemade vegan pineapple fish sauce too – even if you're not vegan! You'll be blown away by how close the flavor is. You can't go wrong with anything here and once you try it, you won't find any better Vietnamese food! 
Catullo's Italian
A family-owned restaurant that started as a food truck! They became so popular and opened up their brick-and-mortar store with limited hours. No matter what day of the week it is, you're bound to find a packed restaurant and a line waiting to get in – so make sure you get there early! Me and my husband LOVE the pear Fiocchi – "Little purses" stuffed with pears and cheeses, and swimming in a pear gorgonzola sauce. Literally incredible, I try to eat half for one meal and save the other half for the next meal because I want to stretch it out and make it last longer HAHA! 
I hope you enjoyed this guide and check some of these places out! Tag me when you go & let me know what you think! Jacksonville is a booming city, there are so many new spots we have yet to check out – comment below with some of your favorite spots in Jax!