Arab Style Crunchwrap Supreme
Last Updated on August 13, 2023 by Jacqueline Rafidi
My twist on a Taco Bell cult fave! This Arab style crunchwrap supreme is loaded with luscious layers and so much flavor in each bite!
Arab Style Crunchwrap Supreme
If you've never had a crunchwrap from Taco Bell, it's kind of like a horizontal burrito. It's a warm flour tortilla hugging all the taco meat, nacho cheese sauce, crunchy tostada shell, refried beans, pico de gallo, lettuce and other fresh veggies neatly folded into a little horizontal, handheld pocket of love. And today we're making them at home – ARAB STYLE!
The first time I made these, I knew I needed to share it here. As many taco bell locations as there are around the world, you won't find something with this flavor there! I thought about each component of the original crunchwrap and changed things up to match the flavor profile I was looking for.
Start with the ground beef – Add some olive oil to a skillet over medium heat, then add the onions. Cook them down before adding in the ground beef. As it cooks, break it down into small pieces and add your garlic and seasonings. No taco seasoning here! We're using allspice and 7 spice – the Arab version of the taco seasoning in this case. Then season with salt and pepper.
But we need to make it saucy, right? YES! The red sauce from taco bell is FIRE (no pun intended). But in this case, we'll be using tomato sauce. This keeps things flavorful and delicious. Set this aside.
Work on your veggies – I like to do all my chopping as the meat cooks down, but you could also knock this out first if you choose. My favorite toppings of choice here are crisp lettuce, diced tomatoes – but you could of course use chopped cherry or grape tomatoes instead, sliced cucumbers and sumac onions. To make the sumac onions, just finely chop a small yellow onion and add it to a bowl with sumac and fresh chopped parsley.
Next, work on the sauce – We're making our own version of a creamy chipotle sauce but Arab-ifying it. Mix up your Greek yogurt, grated garlic, salt and hot sauce of choice – I usually use a mix of harissa paste and shatta but any hot sauce works here.
Now, lets assemble – Lay the large, soft flour tortilla on a flat surface. Add some of the ground beef to the center. Flatten it out to about the size of the tostada. Lay the tostada on top, spread on the spicy garlic yogurt then pile on all the veggies – the chopped lettuce, cucumbers, tomatoes, and sumac onions. Add a smaller tortilla or do what I do – rip a piece off another tortilla and add it right on top, then fold all the corners around to look like a hexagon.
Cook the Arab crunchwrap seam side down on an oiled skillet on medium-high heat until it's golden brown, then flip to get it golden brown and crispy on the other side.
If you can't find tostada shells and you have tortilla chips instead, those work just as well! Place them on top to cover the meat just like you would have with the tostada. The only thing you'll need to change up is the consistency of the spicy garlic yogurt. Since you won't be spreading it on the tostada, you'll want to make it a bit thinner with a touch of water so you can drizzle it on instead.
I chose not to add cheese to this because truthfully I didn't think it needed it. To me, shredded cheese wouldn't really add anything and something like ackawi or feta may be a bit overpowering and take away from the flavors. But of course, add what you like!
To make a vegan crunchwrap, you can even use a meatless filling like mushrooms and black beans or a plant-based protein. Any of these would make great vegetarian options.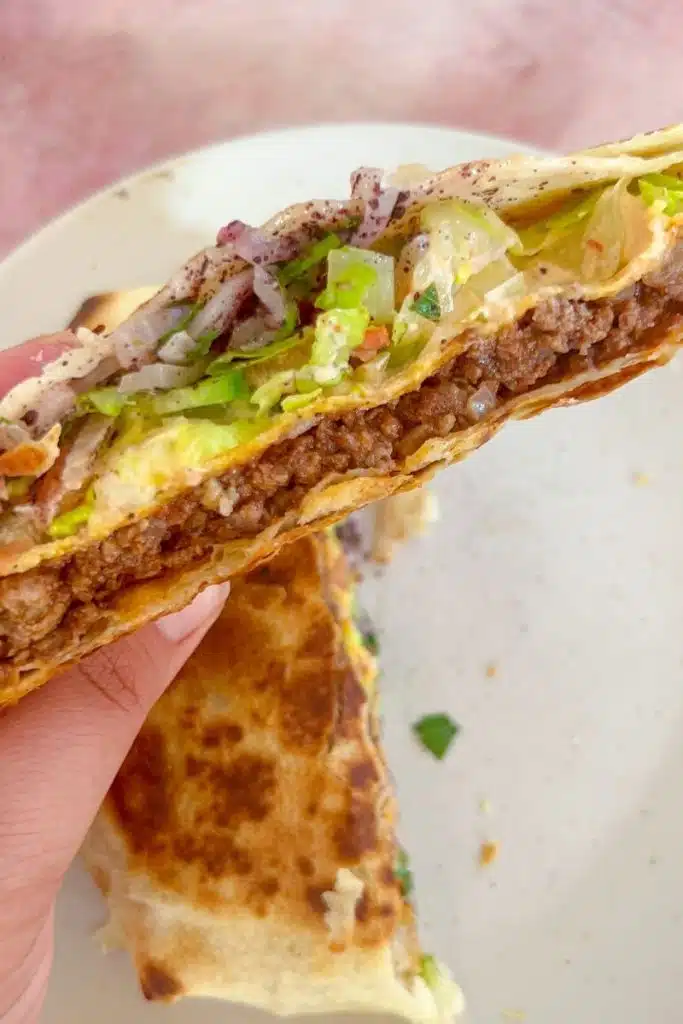 Now you can make your own crunch wrap at home, with a twist. PLUS, There is no delivery fee attached! To me, this one is much better than anything you can get at a fast food restaurant. And although there may not be cinnamon twists waiting for you at the end of your meal, you can feel good knowing you made this yourself – and can make another one in about 5 minutes since all the components are ready! Now, what should I Arab-ify next – the Mexican pizza?
Try these recipes next!
Kifta burgers
Crispy buffalo chicken sandwich
Pulled mushroom sandwich
When you make this Arab style crunchwrap supreme, comment down below and rate this recipe to let me know your thoughts! Also, share a picture or tag me on Instagram @thebitewithjackie, I love seeing your remakes!
Arab Style Crunchwrap Supreme
Everything we love about the Taco Bell cult fave, but with an Arab twist!
Ingredients
For the meat:
2

Tablespoons

olive oil

1

medium onion

diced

1

lb

ground beef

2

cloves

garlic

minced

1

teaspoon

allspice

1

teaspoon

7 spice

1

teaspoon

tomato paste

optional

½

cup

tomato sauce

Salt and pepper to taste
For the sumac onions:
1

medium yellow or red onion

very thinly sliced

2

Tablespoons

sumac

1

handful fresh parsley

chopped
For the spicy garlic yogurt:
1

cup

Greek yogurt

1

medium clove garlic

grated

1

Tablespoon

harissa paste

shatta or other hot sauce (adjust this amount to taste or omit for non-spicy)

Pinch

of salt to taste
For the crunchwrap:
1

– 2 tomatoes

diced

1

head romaine

chopped

2

Persian cucumbers

chopped

Tostadas or tortilla chips

Large flour tortillas

Neutral oil for cooking the crunchwrap
Instructions
Heat the oil in a nonstick skillet over medium heat. Add the onions and cook until softened. Add the ground beef and cook, breaking apart into small pieces. Once the meat is about halfway cooked through, add the garlic and tomato paste. Mix well then season with the allspice, 7 spice, salt and pepper. Mix and continue breaking apart the ground beef. Once the meat is fully cooked through, it should be nice and saucy. If it cooked down too much or becomes too dry, add more tomato sauce and even a touch of oil to get it to the right consistency. Set it aside.

While the ground beef cooks, this is when I chop up all my veggies. Next, make the sumac onions by combining the thinly sliced onions, sumac and chopped parsley in a small bowl. Mix well and set aside.

Work on the spicy garlic yogurt by adding the Greek yogurt to a bowl, grating in the garlic and adding the shatta and salt. Mix it up well and set aside.

To assemble, place a large tortilla on a flat surface. Place about a heaping ¼ cup of meat in the center and flatten it out to the width of the tostada or tortilla chips. Add the tostada on top and spread the spicy garlic yogurt on top (If you're using tortilla chips, it will be easier to thin out the yogurt sauce with a bit of water and drizzle it on instead of spreading). Then add the lettuce, cucumbers, tomatoes and sumac onions on top. Place a small piece of a tortilla on top of everything, the edges of the large tortilla on top into the shape of a hexagon.

Heat a small skillet with a teaspoon of neutral oil on medium heat and place the crunch wrap seam side down into the skillet. Cook until browned and sealed, flip and cook until browned again. Place the crunchwrap on a plate seam side down and enjoy! I love cutting it in half to enjoy all the colorful and delicious layers! Sahtein!