Arabic Rice Pilaf with Vermicelli Noodles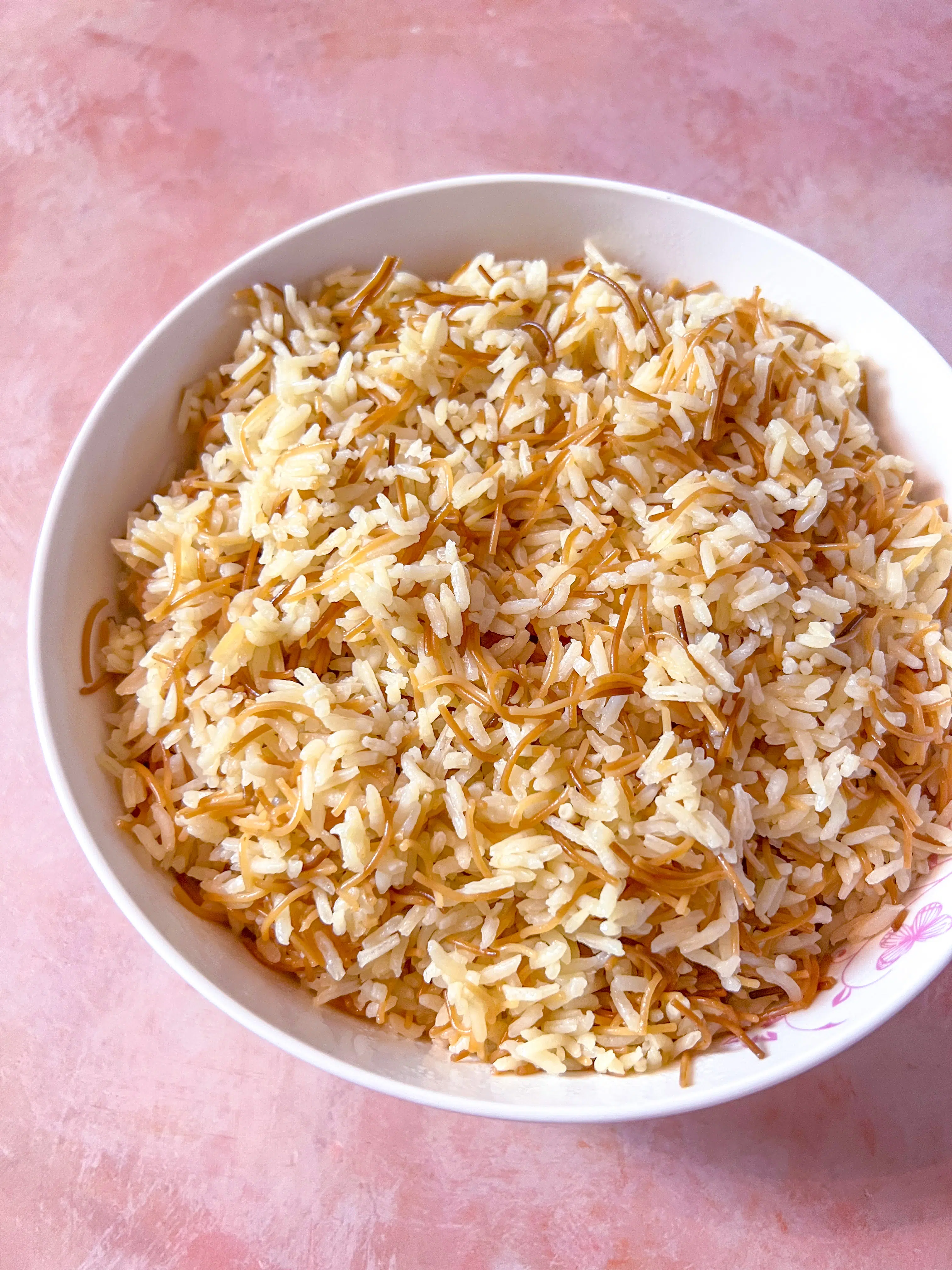 Last Updated on June 21, 2023 by Jacqueline Rafidi
This Arabic rice pilaf with vermicelli noodles is the perfect side dish that we eat with so many of our meals, especially Arabic dishes. Stews, meats of all kind, even just plain with salad.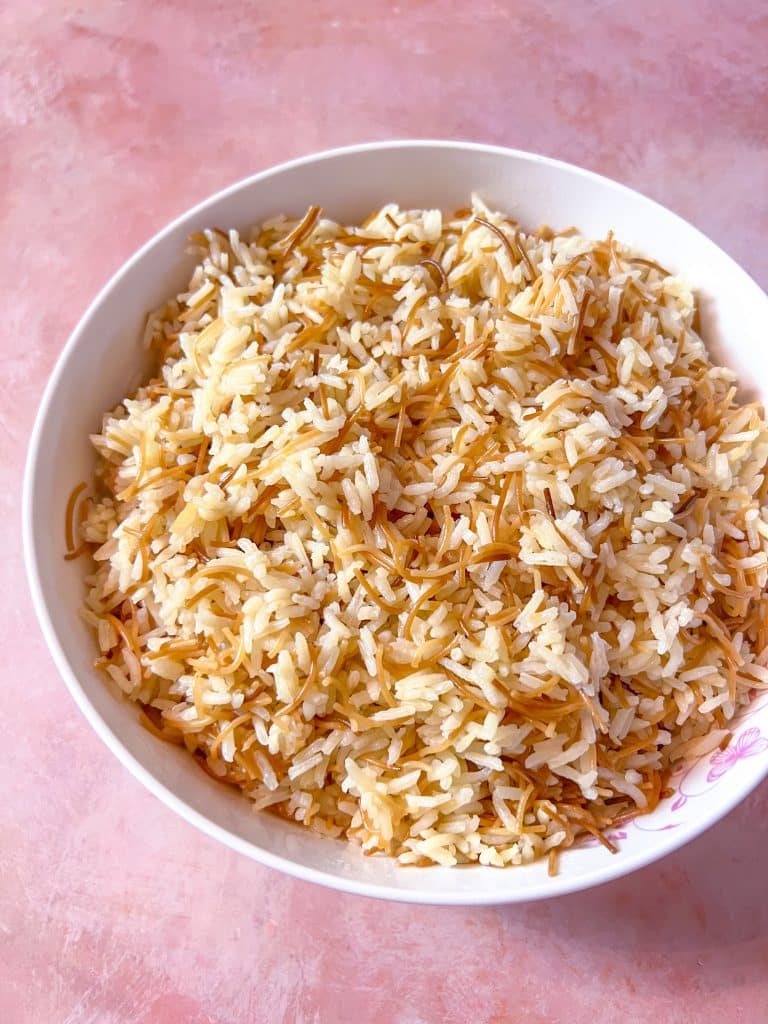 ​This is one of the more popular Arabic rice dishes and you'll find it alongside almost every main dish in Middle Eastern cuisine. My favorite is to eat this with tomato sauce based stews or meat dishes 
How to make Arabic rice pilaf with vermicelli noodles
This recipe consists of a few main ingredients:
Samneh, butter, ghee, or oil: The first thing you'll need to do is melt butter, vegetable oil (or avocado oil which is my preference) or ghee/samneh which is clarified butter that is sometimes flavored with a spice known as "hawajit il samneh". My preference for this is all samneh or a combination of samneh and avocado oil which gives the cooked rice a nice glistening finish once it's done cooking. The one fat you'll want to avoid here is extra virgin olive oil. Because you'll be toasting the vermicelli pasta, you don't want the oil to burn which olive oil tends to do when cooked too long or too high.
The vermicelli pasta: Vermicelli pasta can be found at any Middle Eastern grocery store, online or sometimes even conventional grocery stores. You may find that they're bundled in a round shape or crushed into bite-size, small pieces. If you get them in a round, bundle shape, just crush them in between your hands right over the pot with the heated butter/oil.
​The rice: You can really make this with any rice you choose. I've used basmati rice, long grain rice (or jasmine rice), short grain rice (also known as egyptian rice). You could also make this with brown rice although I typically don't tend to because I usually have jasmine or long-grain rice on hand. The cooking time and the right amount of water will vary based on the rice you choose, so be sure to follow the package instructions if you're unsure how to cook the rice you have.
The cooking process: The first step here is to rinse and drain the rice thoroughly in a fine mesh strainer to remove any excess starch. This will keep your rice nice and fluffy once it's cooked. Then, in a medium or large pot, melt a little butter or whichever fat you choose over medium heat. Add your vermicelli and toast it for 2-3 minutes stirring consistently until golden brown. My biggest tip here is to have your rinsed and drained rice already handy and ready to add to the pot. The vermicelli can go from perfectly golden to burnt very quickly, so this isn't the time to get distracted with washing your rice.
Once the vermicelli is golden, add your rice directly in and give everything a toss to coat each grain of rice with the oil or butter. This keeps everything fluffy and keeps the grains separated while cooking. Add a pinch of salt and enough water to cover the rice and vermicelli by an inch or so – adding too much water could make your final product too mushy. You can also choose to cook this with chicken broth, vegetable stock, black lime or water with chicken bouillon cubes. It's really up to personal preference and what you end up serving this rice with.
Bring the pot to medium-high heat, once the rice is boiling, cover and bring it down to a simmer on low heat. Cook for about 15 minutes or according to package directions. Once it's done, remove the lid, fluff the top of the rice with a fork and place it in a large serving dish. You can leave the rice as is or top it with toasted pine nuts or chopped fresh parsley.
This classic Middle Eastern rice dish is too good to pass up and this fool-proof recipe will leave you with perfectly cooked rice every time.
What to eat with this Arabic rice pilaf
Because this Arabic rice pilaf with vermicelli noodles is so simple, it goes with so many dishes from simple to very flavorful.
Eat this with Chicken kebabs, Greek chicken, Mediterranean shrimp with tomatoes and feta, Mediterranean style zucchini. This is also delicious with vegetarian stews like Basella (briased pea stew) or Loobia bil zeit.
Other common rice dishes
Another common rice dish we eat with many dishes is Hashweh, spiced rice with meat. We also use this type of rice to stuff meats and vegetables like Mahshi, stuffed squash and grape leaves. I also love making yellow rice with things like my chicken shawarma bowls.
We also make Mujaddara, a lentil and rice dish eaten as a vegetarian meal with sauteed onions and a Middle Eastern simple salad.
If you make this Arabic rice pilaf with vermicelli noodles, leave a comment and rate the recipe down below to let me know your thoughts! And of course if you make this recipe, please share a picture with me or tag me in your stories over on Instagram @thebitewithjackie. One of my favorite things is seeing all your remakes!
Arabic Rice Pilaf with Vermicelli Noodles
A quick and easy rice that you can eat with almost anything.
Ingredients
1 ½

tablespoons

samneh

ghee or butter

½

cup

shariyeh

vermicelli noodles

1 ½

cups

long grain rice

rinsed well

2 ½

cups

water

Salt to taste
Instructions
In a medium put on medium high heat, add the samneh (or butter or ghee) and let fully melt.

Add in the shariyeh and toast until golden brown. Add in the rice and stir to combine with the shariyeh for about 30 seconds to 1 minute, then add in the water and salt.

Turn the heat to high. Once bubbles form on the sides and a light boil begins, turn the heat down to low, cover and let cook for about 20 minutes or until the rice is fully cooked and can be fluffed with a fork. Serve as a side dish to your meal and enjoy!