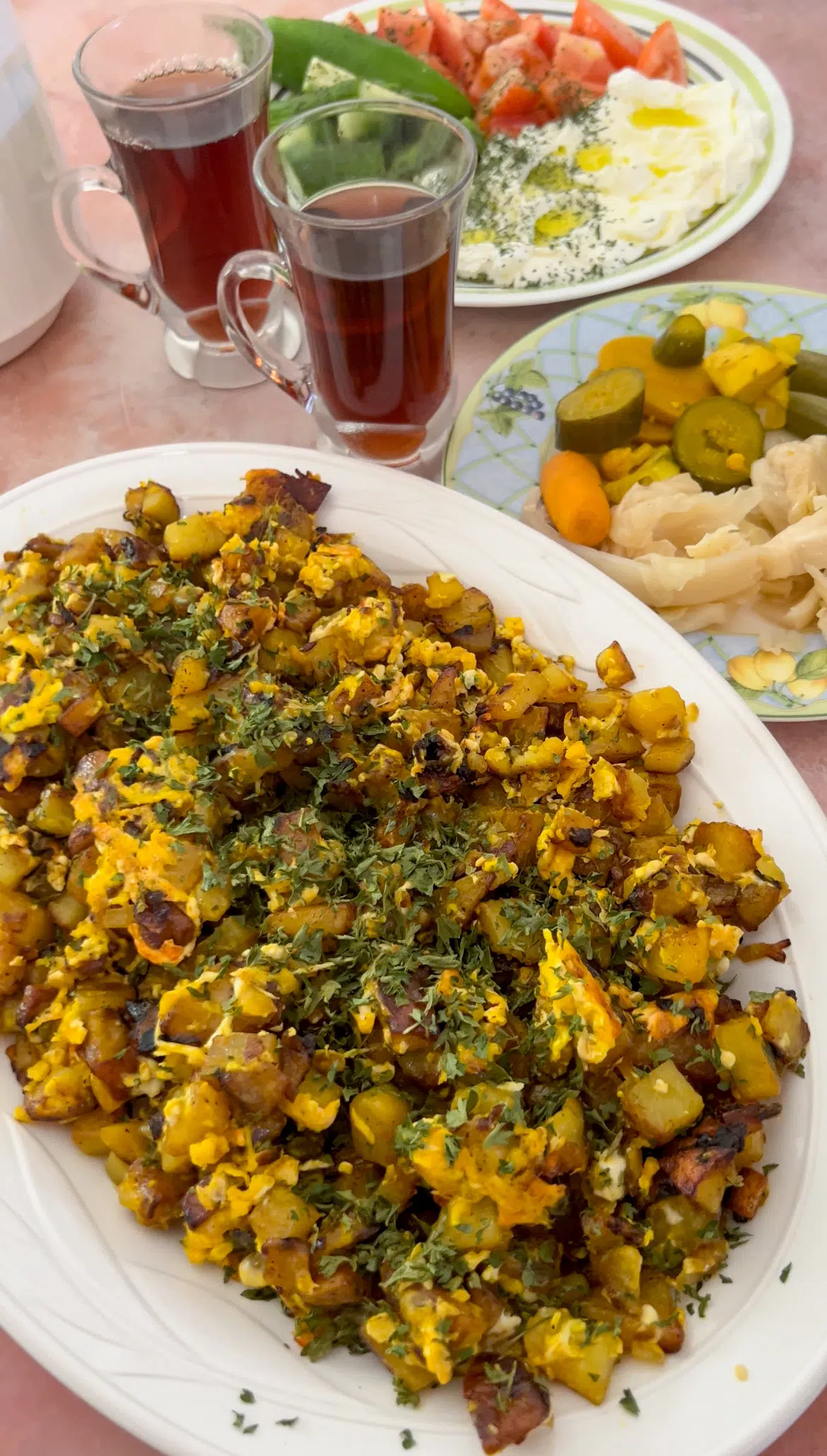 Last Updated on January 1, 2023 by Jacqueline Rafidi
Sundays are for lavish Arab brunches, and this bayd w batata – Arab style potatoes and eggs – is the star of the show! Crispy, spiced potatoes are cooked up to golden brown perfection with finely diced onions, then scrambled up with eggs to make this delicious, filling dish. Sometimes, we would even add chopped and crisped up keilbasa sausage or even hot dogs to the mix!
Tips for making the perfect bayd w batata
1. Cut all the potatoes the same size: Preferably on the smaller side. The smaller the pieces of potatoes, the quicker they will cook up. BUT, they should be big enough to have a crisp on the outside and still maintain a fluffy interior. Otherwise, they'll be more like potato chips.

2. Use a neutral cooking oil: Because this takes time to cook on medium high heat, you want an oil that can withstand high cooking temperatures. I love using avocado oil for bayd w batata. Something like olive oil would not be great to use here.

3. Let the potatoes sit untouched in a single row for a few minutes on the pan: Once you add the spices, give it a quick toss to coat everything, then let them sit flat in the pan in a single row as best as you can. This helps them cook halfway through and crisp up. Once the first side is golden and crispy, flip them over in the pan and cook up the other side. You will do this 2-3 times to get all the sides cooked through and crispy.

4. Add the eggs at the end: I prefer them scrambled, but you could also leave them whole – just cover the pan once the eggs are added and let them cook through until desired doneness.
What to eat with bayd w batata:
Labneh
Salata Falahiyeh
Watermelon Halloumi Caprese
Fuul – Fava bean dip
Hummus
Falafel
Other breakfast recipe that you'll love
Arab breakfast strata
The best fluffy pancakes
Vanilla bean French toast
Black bean and mushroom breakfast tacos
Crab cake eggs benedict

When you make this bayd w batata, comment down below and rate this recipe to let me know your thoughts! Also share a picture or tag me on Instagram @thebitewithjackie, I love seeing your remakes!
Bayd w Batata
This simple Arab style potatoes and eggs is a breakfast staple for us, especially on Sunday mornings when we have the whole Arab brunch spread. Perfect for kids, too!
Ingredients
1/3

cup

avocado oil

or other neutral oil for cooking, possibly more depending on your pan

4-5

medium russet potatoes

diced small

1

medium yellow onion

finely diced

1 ½

teaspoon

paprika

1 ½

teaspoon

turmeric

4-5

eggs

¼

cup

fresh parsley

chopped

Salt and pepper to taste
To serve:
Pickle varieties

pickled turnips, beets, jalapenos, cucumbers

Sliced veggies

cucumbers, tomatoes, jalapenos, green onions

Labneh + olive oil

Pita bread

Ketchup
Instructions
Add your oil to a large nonstick skillet on medium high heat. Toss in your diced potatoes, add the paprika, turmeric, salt and pepper and toss everything together with the oil to coat. Place them in a single even layer on the skillet and let it sit for 3-4 minutes without touching. After 3-4 minutes, the bottom should be golden brown and crispy – if it's not, let them sit another minute or two.

Toss the potatoes to cook again and season once more on the other side. Let sit another 3-4 minutes in a single row repeating the process. Once the potatoes are about halfway cooked, add in your finely diced onions. Let everything cook and caramelize together, tossing periodically to make sure the potatoes are getting golden and crisp and the onions are cooking through.

Crack in your eggs, scramble them in – you can also leave them whole and cook until desired doneness – Remove from heat, sprinkle with chopped parsley and serve!