Crispy Top Cinnamon Streusel Zucchini Bread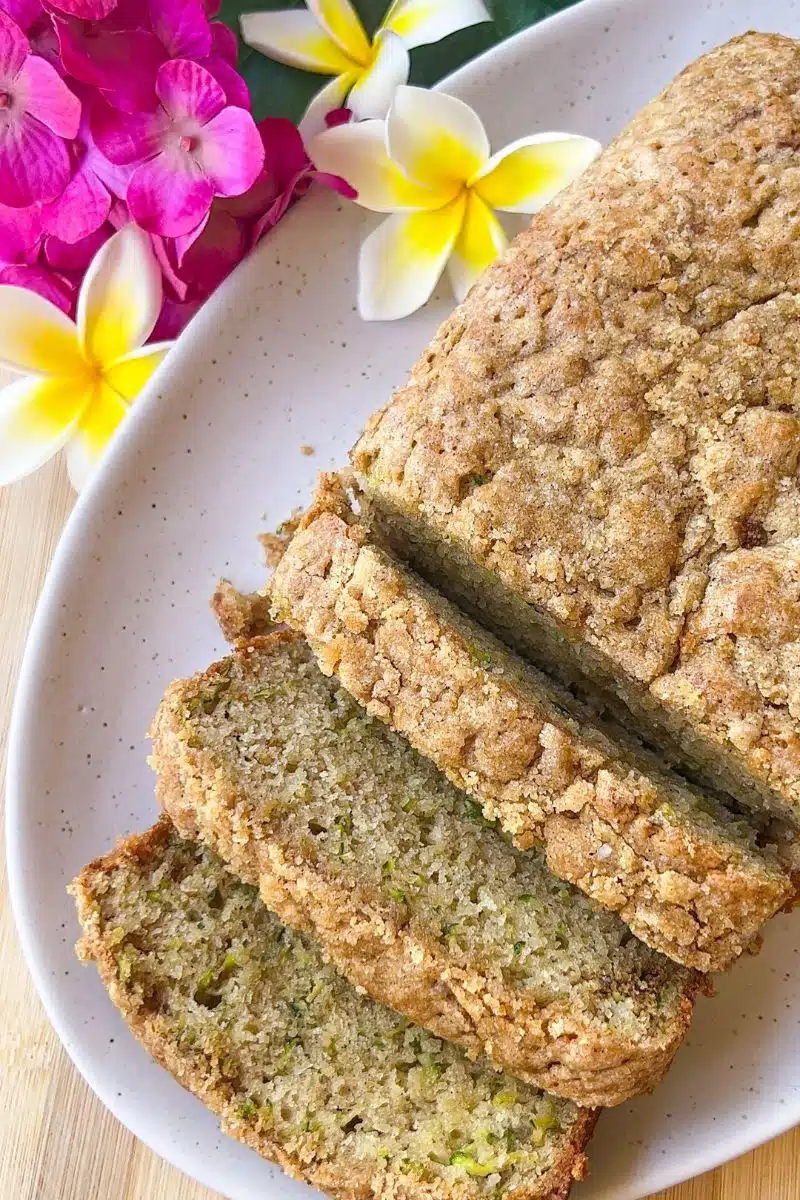 Last Updated on September 26, 2023 by Jacqueline Rafidi
This crispy top cinnamon streusel zucchini bread has easily become my favorite zucchini bread recipe!
It's that time of year! The beginning of September – our hearts might be longing for fall but this San Diego weather is currently screaming SUMMER. We didn't plant zucchini this year, but we have tons of tomatoes. However, I've been getting my fair share of fresh zucchini from the grocery store and have been testing this recipe that I'm so so excited about!
​I think an easy zucchini bread recipe like this is a perfect transitional recipe between summer an fall. You're using summer produce BUT you're still baking – and using warm spices like cinnamon (or pumpkin pie spice) so you get a bit of both worlds.
This is the best zucchini bread. I firmly believe that. The top is crispy and sweet. the inside is moist, fluffy and cake-like. It's just so so good. If you have a lot of zucchini in your fridge waiting to be used, this is what you need to make. Even if you don't have it – run to the store and grab some while they're still in season and make this recipe!
Making this crispy top cinnamon streusel zucchini bread
So easy, everything is done by hand – no stand mixer needed!
First thing to do is grate the zucchini with a box grater. You need 2 cups. I typically get this from 1 1/2 zucchinis and use the leftover zucchini in my dinner. You could probably also use one large zucchini. Grate the zucchini using the 2nd to largest size on the box grater which gives you shreds about the size you'd see for potatoes in hash browns. Or whichever side you prefer. I enjoy seeing the green specks in the zucchini bread once it's baked and the larger grater will give you that.
Also, I've seen many people use a paper towel to remove the excess liquid from the shredded zucchini. No need to do that. The excess moisture in the zucchini lends so much to the final zucchini bread. It just wouldn't be the same without it. Add the grated zucchini to a large mixing bowl.
Then, add the rest of the wet ingredients to the zucchini – the eggs, avocado oil (vegetable oil would work fine here too – any neutral oil), white sugar and brown sugar, plain yogurt and vanilla extract. Give everything a good mix. It should be pretty liquidy. If not, let it sit for about 3-4 minutes and let the zucchini work its magic.
You can mix the dry ingredients in a separate bowl, but I just add them right on top of the wet ingredients and mix them together a bit before combining everything. Combine the all purpose flour, baking soda, baking powder, salt, and cinnamon – or in my case, pumpkin pie spice. Because why not? Use a spatula to fold the flour mixture into the wet ingredients together until just combined. Grease a loaf pan with olive oil or butter. Pour the batter into the prepared loaf pan and set aside.
Work on the streusel. Combine some cubed cold butter with white and brown sugar, all purpose flour and cinnamon or pumpkin pie spice on a plate or a wide shallow bowl. Use a pastry cutter or a fork to carefully break down the butter into the other ingredients until the butter resembles coarse crumbs. Sprinkle the streusel topping on top of the loaf making sure to cover the entire tip from edge to edge. Place it in your preheated oven at 350F and bake for about an hour or until a toothpick comes out clean from the center of the loaf. The top should be crispy and a tad bit crumbly from the brown sugar streusel.
Let it cool in the loaf pan or on a wire rack. I love to eat the bread while its still warm and fresh out of the oven – my favorite! But many people say quick bread recipes like this are better room temperature or the next day. Store any leftovers away for next time in an air tight container
The first time I tested this, I tried it without the yogurt. Once I added the yogurt in, it totally transformed the texture and became this scrumptious zucchini bread that was exactly what I was aiming for! I think it gave the best results and ended up become one of my favorite ways to make a moist sweet bread like this.
You could add chocolate chips in here if you'd like to make it a chocolate chip zucchini bread, or even some crunch from walnuts or pecans. Those would all be a fun twist! I think the recipe as written is the perfect texture so you can really make it your own however you like! I hope you give this delicious zucchini bread a try! I just know you're going to love it and it will become a favorite recipe in your homes as well! Enjoy a slice for breakfast with some melted butter on top, have a warm slice with ice cream on the side, or enjoy it with coffee or tea as a mid day pick-me-up! 
More Muffins & Quick Breads
Raspberry white chocolate muffins
Pumpkin muffins with cheesecake filling
Pumpkin apple muffins

When you make this crispy top cinnamon streusel zucchini bread, comment down below and rate this recipe to let me know your thoughts! Also, share a picture or tag me on Instagram @thebitewithjackie, I love seeing your remakes!
Crispy Top Cinnamon Streusel Zucchini Bread
Fluffy, and delicious quick bread with a sweet & crispy streusel top
Ingredients
For the zucchini bread:
2

cups

grated zucchini

about 1 ½ zucchinis

2

eggs

½

cup

granulated sugar

½

cup

brown sugar

2

teaspoons

vanilla extract

½

cup

avocado oil

or other neutral oil

⅓

cup

plain yogurt

2

cups

all-purpose flour

½

teaspoon

kosher salt

1

teaspoon

baking powder

½

teaspoon

baking soda

1 ½

teaspoons

cinnamon or pumpkin pie spice
For the streusel:
2

Tablespoons

cold butter

cubed

3

Tablespoons

brown sugar

3

Tablespoons

white sugar

2

Tablespoons

all-purpose flour

½

teaspoon

cinnamon or pumpkin pie spice
Instructions
Preheat your oven to 350F

In a mixing bowl, combine grated zucchini, eggs, granulated and brown sugar, and vanilla extract. Mix well till all the sugar is combined – it should be very liquidy. If it's not, let it sit for 3-4 minutes and let the zucchini work its magic. Then, add in the oil and yogurt. Mix well till incorporated.

In a separate bowl, combine the flour, baking powder, baking soda, salt, and cinnamon or pumpkin spice, then add that right in to the wet ingredients. Use a spatula to fold in the dry ingredients until just incorporated.

Grease a loaf pan with butter or avocado oil and pour the batter in the center.

Make the streusel by combining all ingredients in a plate or bowl. Use a fork to incorporate the butter into the flour and sugars. Once it looks like little pebbles, sprinkle it right on top of the batter in the loaf pan being sure to spread it across the entire surface. Place in the oven on the lower rack and let it back for 55-60 minutes or until a toothpick inserted in the center comes out clean.

Let cool for a couple minutes and enjoy with a cup of tea, some ice cream, berries or alone as a little snack!