Last Updated on October 16, 2022 by Jacqueline Rafidi
Easy Greek moussaka is one of our go-to comfort foods in the fall and has quickly become a favorite even year round. Although this moussaka recipe is not an Arab meal we grew up eating and this may not be a super traditional version (I like to roast the veggies instead of frying them like its done traditionally – It's quicker and less hands on time) to me, it still has qualities of a home cooked meal that I love and similar flavors as well!
My 2 year old daughter, Nadia, LOVES this meal and even knows it by name! She gets excited to see it on her plate and even asks for seconds sometimes – I guess that makes this meal "Toddler Approved!". I always serve this with my vermicelli rice pilaf and a nice fresh side salad like my simple Middle Eastern salad.
How to assemble this easy Greek moussaka
Although this meal does take some time and there are some steps involved, none of them are difficult. I love using a deep 9×13 baking dish for this so that all the layers stay intact without fear of the béchamel sauce on top spilling over.
Start by roasting your first layer of veggies – the potatoes and onions in your baking dish. While that happens, cook up the meat mixture which is pretty straight forward. Cook the meat, add the onions, garlic, spices and tomatoes. Once that's done, the potatoes are likely done. Repeat this process with the eggplant and the zucchini.
Add the next layer of veggies – the eggplant. While that roasts up, make the béchamel sauce. Melt the butter, add the flour and slowly add in the milk until the sauce becomes creamy and dreamy.
Once the last layer of veggies are done, add the meat in an even layer and top with the béchamel. Grate on some fresh Parmigiano Reggiano, bake, then broil and your easy Greek moussaka is ready! The top will be crusty and bubbly after broiling in the oven and it'll be IRRESISTABLE. But it's best to wait about 20 minutes before cutting into it, similar to a lasagna, so the layers can stay intact.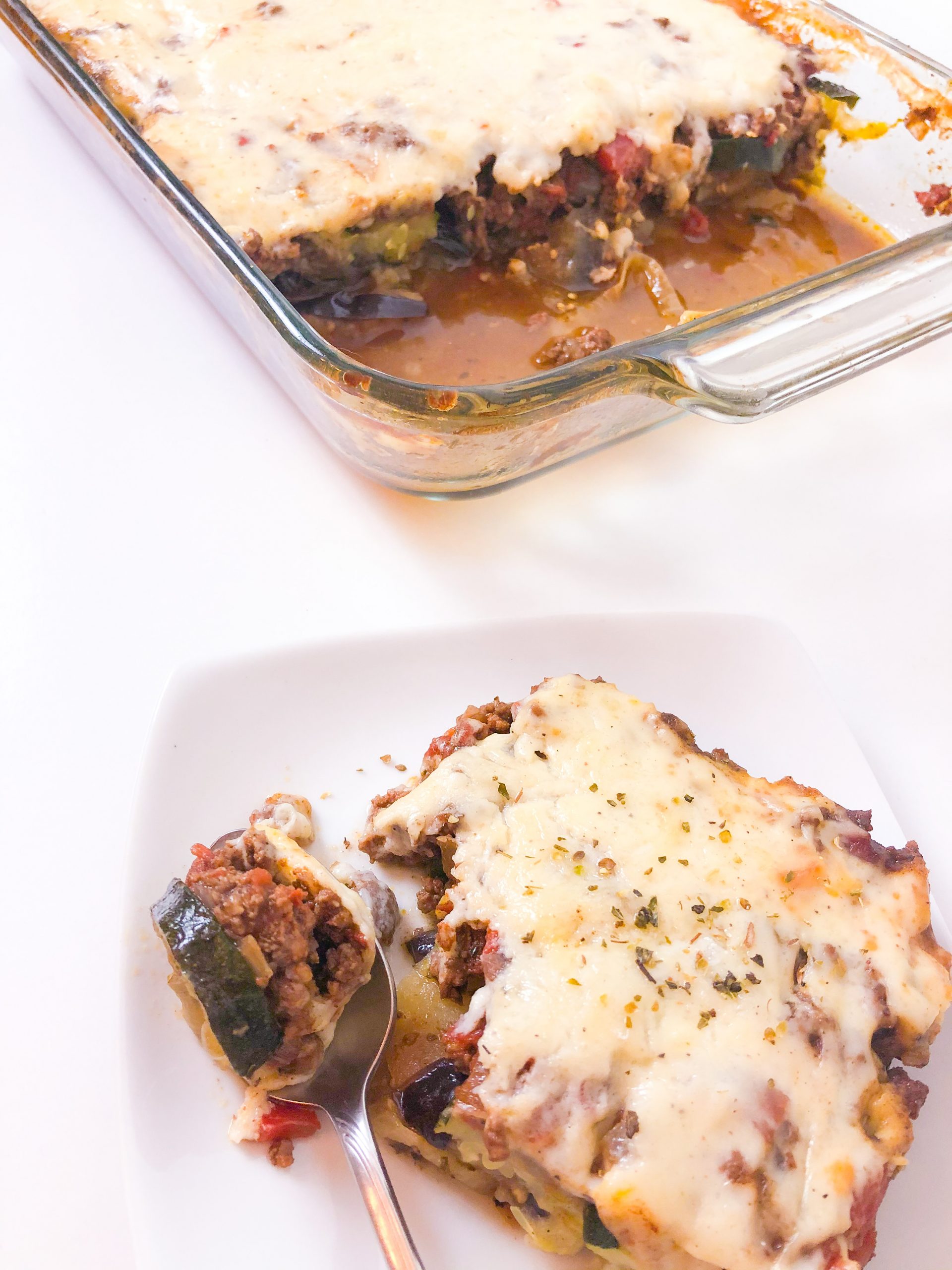 I like this best served with my vermicelli rice and a traditional Middle Eastern Simple Salad or horiatiki salad. Enjoy!
When you make this easy Greek moussaka, comment down below and rate this recipe to let me know your thoughts! Also share a picture or tag me on Instagram @thebitewithjackie, I love seeing your remakes!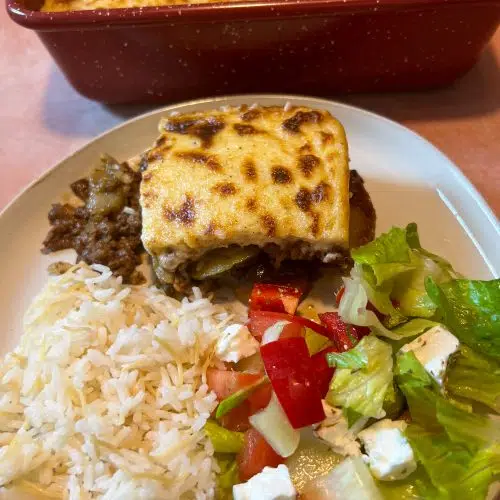 Easy Greek Moussaka
A comforting meal layered with veggies, flavorful meat filling and a creamy béchamel topping
Equipment
9×13 baking dish

preferably a thick one about 2.5 inches in depth
Ingredients
For the veggies
3-4

russet potatoes

sliced ¼ inch thick

1

small onion

sliced in ¼ inch half moons

1

small eggplant

sliced ¼ inch thick rounds (any large pieces can be cut in half)

3-4

zucchini

sliced ¼ inch thick rounds

3

Tablespoons

dried oregano

divided

Salt and pepper to taste

Olive Oil
For the meat mixture
1-2

tablespoons

olive oil

1 ½

lb

ground beef

or ground meat of choice

1

small onion

diced

3

cloves

garlic

minced

2

teaspoons

allspice

1

Tablespoon

dried oregano

1

Tablespoon

tomato paste

1

can of diced tomatoes

without Italian seasoning or 2-3 tomatoes, diced

Salt & pepper to taste
For the béchamel sauce
⅔

cup

unsalted butter

⅔

cup

all purpose flour

4

cups

milk

Pinch

of nutmeg

Salt & Pepper to taste

Freshly grated parmesan for topping
Instructions
Add the sliced potatoes and onions to a bowl with a sprinkle of salt, pepper, 1 Tablespoon oregano, and 1 tablespoon oil. Keep this bowl handy for the remaining vegetables. Place the potatoes evenly on a 9×13 baking dish and roast for 35 minutes or until they begin to soften and become golden.

While the potatoes are roasting, prepare your meat filling. Add the oil to a large pan over medium heat. Add the meat and cook down, breaking apart the larger chunks as much as possible. Once the meat is halfway cooked through, add the diced onions, and garlic. Cook until onions are softened and garlic is fragrant. Add in the allspice, oregano, salt and pepper and cook for another 30 seconds. Add in the tomato paste and can of diced tomatoes and let it cook down for about 10 minutes or until some of the liquid has evaporated. Remove from heat and set aside.

When the potatoes are done, remove the tray from the oven and mix together the eggplant, olive oil, salt, pepper and 1 tablespoon oregano in the same bowl. Place the eggplant slices on top of the roasted potatoes in one even layer and bake for an additional 20 minutes.

While the eggplant is in then oven, work on the béchamel sauce. Add the butter to a saucepan over medium heat. Once it's melted, add in the flour and whisk to combine until a thick paste is formed and flour is cooked through. Slowly start adding in the milk about ½ cup at a time to ensure that it is fully incorporated. Keep adding the milk and whisking from the bottom until it is thick and creamy and begins to bubble slightly. Lift your whisk and you should see ribbons of béchamel falling on itself in the pot. This means the consistency is right and the sauce is done. Turn off the heat, add nutmeg, some salt, pepper and set aside.

Pull out the tray, mix together the zucchini, olive oil, salt, pepper and 1 tablespoon oregano in the same bowl . Place the zucchini slices on top of the roasted eggplant and bake for an additional 15-20 minutes.

In the 9×13 pan on top of the veggies, evenly spread the meat mixture and with the back of a spoon. Gently pour half the béchamel sauce on top of the meat and spread carefully to cover all the surface area. Pour over the rest of the sauce and spread evenly. Sprinkle or grate on the parmesan cheese and place back into the oven for 20 minutes and broil for 3-4 minutes or until the top begins to turn golden brown. Remove from oven and let it set for about 30 minutes (similar to a lasagna, you want to let this dish set so when you're slicing it, everything stays intact and it doesn't spill all over the tray) and enjoy!
Notes
The meat can be prepared one day in advance. 
Only salt the veggies right when you're ready to put them in the tray. Salting them too early on will make them release too much water.