Greek Summer Pasta Salad with Herby Vinaigrette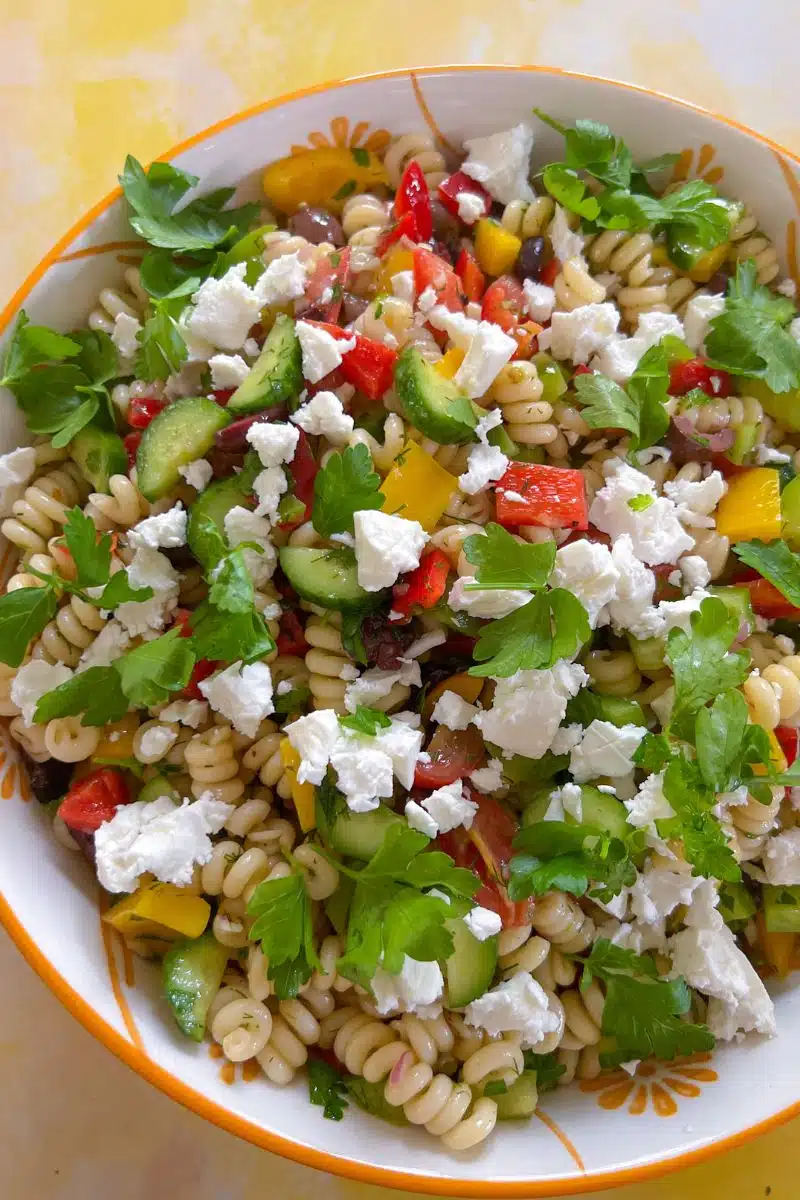 Last Updated on June 19, 2023 by Jacqueline Rafidi
Greek summer pasta salad with herby vinaigrette is the dish you need for your summer barbecues – or even just a quick lunch! This super easy pasta salad recipe will become a go-to throughout the warmer months and perfect for summer parties and get togethers!
Pasta salads like these are just the perfect make-ahead dish or speedy side dish for any spring or summer gathering. I even love to pack it up and take it to the beach! Adding Greek chicken or chickpeas would be great options to make it more filling and a complete meal! Not only is this delicious but it's addicting! On hot summer days when I know this is in the fridge, I can't help but go back for more! But since there are plenty of fresh veggies packed into this, I feel good ok eating extra!
This Greek summer pasta salad with herby vinaigrette is packed with veggies from juicy, colorful cherry tomatoes, to crisp bell peppers and Persian cucumbers, a salty bite from olives and feta and an easy, herby vinaigrette that makes it top notch!
Greek summer pasta salad with herby vinaigrette
To make this delicious Greek pasta salad come together quicker, start with the pasta. You can use whichever shape you enjoy! Here, I used this fusili corti bucati which I got from Trader Joe's and happens to be one of my favorite pasta shapes! But of course you can use any type of pasta you prefer. Bring a large pot of salted water to a rolling boil. While you wait, I chop up all the fresh vegetables and kalamata olives. Set those aside, add the pasta to the boiling water and cook it according to package instructions. While the pasta boils, I work on the dressing which I share more about below. Once you have al dente pasta, it's super important to drain AND rinse the pasta.
Should you rinse your pasta for a pasta salad? 100% yes! Rinsing the pasta in cold water stops the cooking process and you're left with perfectly cooked pasta instead of letting the residual heat continue to cook the pasta, making it mushy over time. It also ensures that as it sits (which it should because it gets even BETTER), that it doesn't get mushy. When I rinse the pasta, I run the water and toss the pasta in a colander to make sure every piece is at room temp and cooled down.
How to make the best Greek pasta salad dressing
Once each component is ready, I add the cooled pasta and crunchy vegetables into a large bowl before adding the Greek vinaigrette. The dressings for this herby vinaigrette really make this easy greek pasta salad come to life. They're pretty common dressing ingredients you may already have on hand, but together, they make magic.
A red wine vinaigrette is the base for this easy Greek pasta salad, with a few extra tweaks: good quality olive oil, red wine vinegar and fresh lemon juice are the base, garlic and shallots (or a finely chopped red onion) are added for aromatics, honey and dijon mustard for emulsifiers, Italian seasoning, fresh herbs like parsley and fresh dill for brightness. Mix everything together well in a small bowl before tossing everything.
I add the tangy feta cheese last minute before serving – you can also keep this on the side for anyone who wants to keep this delicious pasta salad vegan. This easy recipe is bound to be a huge hit at summer cookouts and since it's so fresh and colorful, it goes great with just about any main course.
How long does pasta salad last in the fridge?
The shelf life of pasta salad is pretty standard – it depends on a few things. If you make it as the recipe calls for WITH the feta, I'd say no more than 3-4 days. I find that adding dairy products makes the expiration date a bit sooner. If you make it without the feta, I find that it may last an extra day or two. I would suggest looking for signs of spoilage in the fresh veggies around day 3 – mainly the cucumbers. If you add meat to this recipe, I would suggest up to 2-3 days, max. I would recommend these same times for any leftover pasta salad including store-bought pasta salad. Overall, the best way to keep this lasting longer in the fridge is to keep the cheese separate. Store pasta salad leftovers in a sealed container or tupperware or in a glass bowl sealed with plastic wrap. Of course for the best quality and taste, you'll want to eat this sooner, and I have no doubt that this will go quickly!
How long can pasta salad sit out
This is one of the best pasta salads you can make for a summer BBQ. And in general, pasta salad keeps fairly well outdoors. If you make a big batch and plan to leave this out on a hot day, it would be a good idea to the feta on the side – maybe even sitting on a bowl of ice to keep it fresh. The good news is the fresh ingredients in this will be ok for a few hours in the sun, maybe just cover it to keep any bugs away! If you do want to add the feta cheese, I would say no more than an hour or two in the heat, then bring it somewhere to stay fresh at room temperature.
This Greek summer pasta salad with herby vinaigrette is such a family favorite and bound to be the star of any summer table!
More pasta salad recipes to love!
Tortellini salad with pesto vinaigrette
Freekeh salad with shrimp, corn and Middle Eastern chimichurri
Peanut noodle salad
When you make this Greek summer pasta salad with herby vinaigrette, comment down below and rate this recipe to let me know your thoughts! Also, share a picture or tag me on Instagram @thebitewithjackie, I love seeing your remakes!
Greek Summer Pasta Salad with Herby Vinaigrette
Bright and fresh and seriously addicting pasta salad perfect for a lunch, side dish or snack!
Ingredients
For the pasta salad:
1

lb

pasta of choice

1

pint

heirloom cherry tomatoes

quartered

2

Persian cucumbers

chopped

1

medium red bell pepper

large diced

1

medium green bell pepper

large diced

1

medium yellow or orange bell pepper

large diced

10-12

Kalamata olives

quartered

4-8

oz

feta cheese in brine

crumbled
For the dressing:
Scant 1/3 cup olive oil

3-4

Tablespoons

red wine vinegar

Juice from ½ lemon

1

small shallot

very finely minced

2

garlic cloves

grated

2

teaspoons

dijon mustard

2

Tablespoons

honey

1 ½

Tablespoons

Italian seasoning or dried oregano

½

bunch parsley

finely chopped

½

bunch dill

finely chopped

Salt and pepper to taste
Instructions
Bring a pot of water to a boil. Once boiling, add 1 teaspoon of salt to the water to flavor the pasta. Cook the pasta according to package directions. Once the pasta is aldente, drain and rinse immediately to stop the cooking process. Rinse until all the pasta comes to room temp.

While the water comes to a boil, chop all your veggies and set them aside. Then, as the pasta cooks, work on your dressing. Mix all the dressing ingredients, except the fresh herbs, together until well combined. Then add the fresh herbs, salt and pepper. Give it a taste to be sure its to your liking.

Add the cooled pasta, veggies and the dressing to the bowl. Give everything a toss to combine. Right before you serve, crumble the feta on the pasta salad or serve on the side and enjoy!
Notes
To make this ahead of time, store the cooked and cooled pasta, chopped veggies and dressing all in separate containers. Combine a couple hours before serving.