Last Updated on March 17, 2023 by Jacqueline Rafidi
Hilbeh is an Arab fenugreek and semolina cake. The ingredients are so simple and the cake itself isn't too sweet which makes it perfect for a dessert, a snack with tea or coffee or even breakfast! I said what I said haha!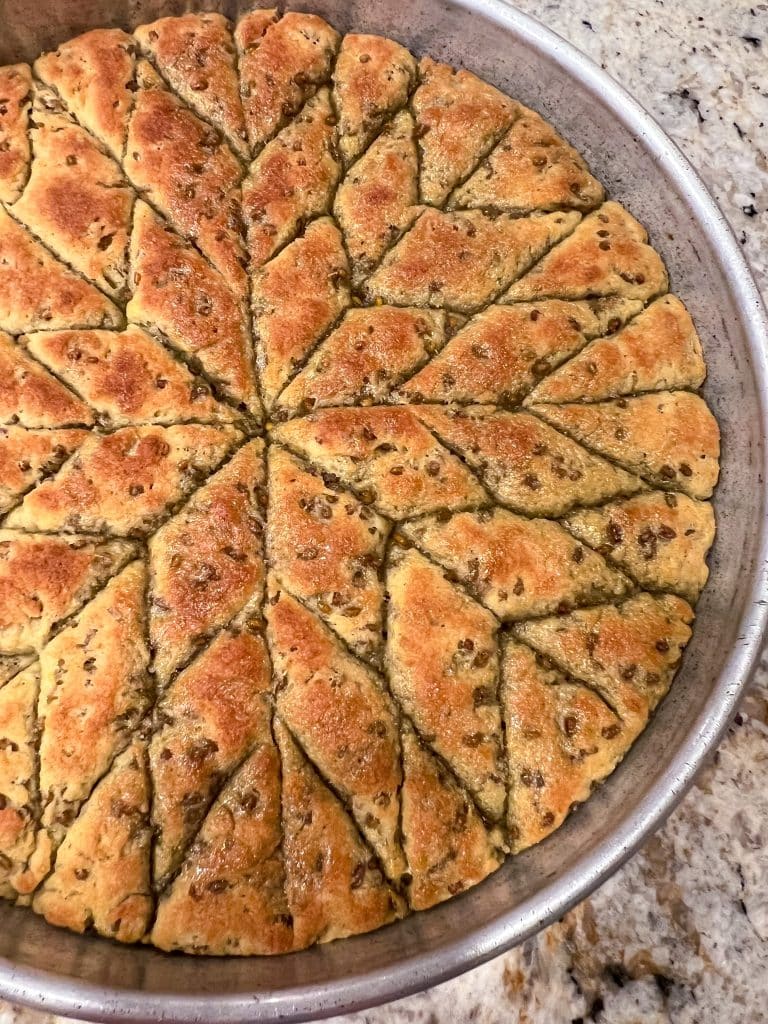 Benefits of Fenugreek (hilbeh)
Hilbeh, or fenugreek, it is seed form is known to have many healthy and healing properties such as lowering blood sugar levels, cholesterol, inflammation and is even used in some cultures to treat some diseases.
Well I guess we can consider this cake healthy then, right? Why not!
Fenugreek has always had a maple syrup-like fragrance to me. In fact, when I was a kid and my mom would make this hilbeh, I'd always think she was making pancakes because the house smelled like maple syrup! I didn't quite understand this as a kid, but hilbeh is SO much better than pancakes.
How to make hilbeh
Boil your fenugreek seeds (hilbeh seeds) until they're plump and the water is golden and fragrant. Strain out the seeds and reserve the water – this is going to add tons of flavor to your cake and is what will keep this vegan!
Add a bit of the fenugreek water to a bowl along with the yeast and sugar. While the yeast blooms, add all the dry ingredients to your mixing bowl. Add in the boiled fenugreek seeds, olive oil, nigella seeds and fenugreek water. Mix it all together and let it rise until doubled in size.
Grease a 12 or 14 inch baking tray with olive oil, add the dough and spread it out evenly. I like to cut it using this pattern:
Bake for 30 minutes and broil for 5 to achieve a golden exterior on top, immediately pour on the simple syrup and enjoy!
If you like this cake, you'll also love:
Lebanese sfouf
Simple apple cake
The ultimate brownies
When you make this hilbeh, comment down below and rate this recipe to let me know your thoughts! Also share a picture or tag me on Instagram @thebitewithjackie, I love seeing your remakes!
Hilbeh (Fenugreek and Semolina Cake)
The fenugreek gives it a maple syrupy, earthy flavor, which makes it so delicious.
Equipment
14" round baking pan or equivalent

Stand mixer or hand mixer
Ingredients
3

tablespoons

fenugreek

hilbeh seeds

2

cups

water

3

cups

fine semolina

smeed

¾

cup

flour

1

tablespoon

nigella seeds

½

teaspoon

salt

½

cup

olive oil

1

– 7g package dry yeast

or 2 1/4 teaspoon

1

teaspoon

sugar
Simple Syrup:
1 ½

cups

sugar

¾

cup

water

1

teaspoon

lemon juice
Instructions
Boil fenugreek seeds in the 2 cups water for about 5 minutes until the seeds plump up. Lower the heat and let simmer for about 3 minutes and remove from heat. Reserve the water! This water will add flavor to the cake.

Make the simple syrup by combining the sugar and water in a small pot. Stir to begin dissolving the sugar in the water and place on medium high heat. Bring to a boil and periodically stir the syrup to prevent the sugar from burning on the bottom. Add the lemon juice once the syrup is to a boil. Turn the heat to low and simmer for 5 minutes. Remove from heat and let cool.

Mix the yeast and sugar with ¼ cup of lukewarm fenugreek water and let bloom 5 minutes (If the fenugreek water is too hot, add half fenugreek water and half room temperature water to create ¼ cup).

Combine the semolina, flour, nigella seeds, boiled fenugreek seeds and salt in a stand mixer with a paddle attachment or a large bowl using a hand mixer. Add in the olive oil and the bloomed yeast mixture and mix. Add 1¼ cup fenugreek water to the dough and mix. Let the dough rise for 30 minutes covered in a cool dark place.

Grease your 14" baking tray with 2 tablespoons olive oil using a paper towel or napkin to remove any excess. After the dough has risen for 30 minutes, transfer to the greased baking pan and spread the dough to cover the entire tray. Cut into desired individual shapes.

Cover and let rise for an additional 30 minutes in a cool dark place.

Preheat the oven to 400F. Bake the hilbeh for 30 minutes or until you see golden edges and slightly golden dough on top. Once removed from oven, immediately add the cooled simple syrup being sure to cover every inch of the cake. Let sit for 20+ minutes so the syrup can soak in and then enjoy!