Last Updated on March 12, 2023 by Jacqueline Rafidi
During the 40 days before Easter, Christians around the world partake in Lent. This is a time of personal reflection and for those who observe to become closer to God and prepare themselves for Easter. Orthodox Christians in particular have a fasting guideline in which we eat no dairy or animal products – shellfish is accepted, however.
Lenten recipes are commonly vegetarian or vegan and tend to be humble, and quick recipes. During this time, we do our best not to overindulge and focus on giving to those in need.
The fasting guideline is really just that – a guideline. Fasting can really be done any way each individual wants or feels is right for them. Sometimes people may feel overwhelmed with what to make during this time, so I prepared this list of Lenten recipes from my site to give you some inspiration. Each category listed below has recipes and pictures of dishes to make and have on hand during these holy weeks. I hope this list serves you well and that you have a blessed Holy month!
If you have any requests for other Lenten recipes you'd like to see, please share them in the comments and I'll get to work!
And as usual, when you make an of these 50+ Lenten recipes, comment down below and rate this recipe to let me know your thoughts! Also share a picture or tag me on Instagram @thebitewithjackie, I love seeing your remakes!
Appetizers
Black bean, corn and jicama salsa
Bruschetta tomatoes (without the burrata)
Bolani stuffed with potatoes
Muhammara – Red pepper dip
Chili garlic roasted tomatoes
Baba ghanouj
Breakfast
Fuul Mudammas
Fuul Mudammas without tahini
Black bean and mushroom tacos (without the eggs)
Salads
Peanut Noodle Salad
Salata Falahiyeh – Arab shepherds salad
Easy summer rice salad
Salata Tahini – Tahini salad/Jerusalem salad
Fattoush salad
Salatat Hindbeh – Endive salad
Simple Middle Eastern salad
Tabbouleh
Soups
Italian white bean soup with butternut squash and kale
Aush reshteh – Persian bean and noodle soup
Mushroom wild rice soup
End of summer chili – My take on a vegetarian chili
Spicy Korean silken tofu soup
Minestrone soup
Shrimp curry ramen
Main Meals
Loubia bil Zeit
Pasta fasoul
Falafel
Veggie lettuce cups
Basella
Mujaddara
Miso tahini stir fry
Mediterranean shrimp (without the feta)
Shrimp and veggie stir fry
Side Dishes
Arab rice pilaf
Middle Eastern potato salad
Greek rice pilaf
Falafel
Freekeh salad with shrimp, corn and Middle Eastern Chimichurri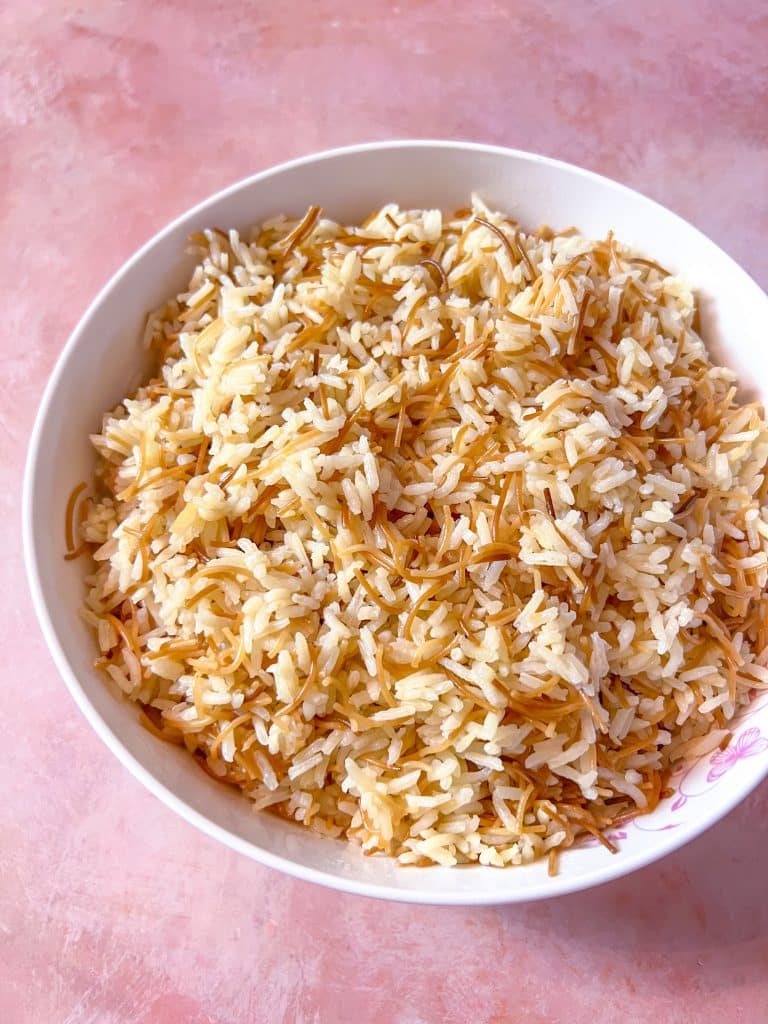 Desserts
Lebanese Sfouf
Coconut pudding – Trembleque
Vegan chocolate chip cookies
Zalabieh
Vanilla cardamom rice pudding (Made with plant based milk rather than dairy)
Hilbeh – Fenugreek cake
Burbara
Vegan almond joy cookies
Drinks
Mango, spinach and ginger smoothie
Arabic sage tea – Shai marmiyeh
Arabic coffee
Green juice
Limonana – Mint lemonade