Meal Plan 40: October 2-7
Last Updated on October 1, 2023 by Jacqueline Rafidi
Grocery List:
Meats & Seafood:
2.5 Boneless skinless chicken breasts (Chicken tinga bowls)
2 lbs Salmon (Pan seared salmon)
1 lb ground beef (Lasagna soup)
Boneless skinless chicken breasts (Chicken marsala)
1 whole chicken, cut into 8 pieces (Makloubeh)
Produce:
Tomatoes
Onions
Cilantro
Yukon gold potatoes
Fennel
Cara cara orange
Arugula
Lemon
Celery
Parsley
Spinach
Basil
Mushrooms
Mixed greens
Radicchio
Figs
Carrots
Cauliflower
Russet potatoes
Romaine lettuce
Persian cucumbers
Raddish
Bell peppers (for salad – any color)
Red onion
Mint
Cilantro
Avocado
Dairy & Other:
Toum garlic sauce (Can be found at Whole Foods or Trader Joe's)
Whole milk ricotta cheese
Parmigiano Reggiano
Low moisture mozzarella cheese
Heavy cream
Gorgonzola cheese
Eggs
Greek yogurt or sour cream
1 box frozen spinach
Pantry:
1 can chipotle chilis in adobo sauce
Low sodium or salt free chicken broth
1 can tomato paste
1-28oz can crushed tomatoes
Low sodium vegetable broth
Marsala wine
Pecans
Fig jam
Maple syrup
Brown or green lentils
Basmati rice
1 can pinto beans
1-8oz can tomato sauce
Tortilla chips (The freshest ones you can find. I wouldn't recommend tostitos for these. Low salt if possible)
Meal Plan:
Monday: Crockpot chicken tinga burrito bowls to start the week and use any leftovers on salads, in quesadillas or nachos!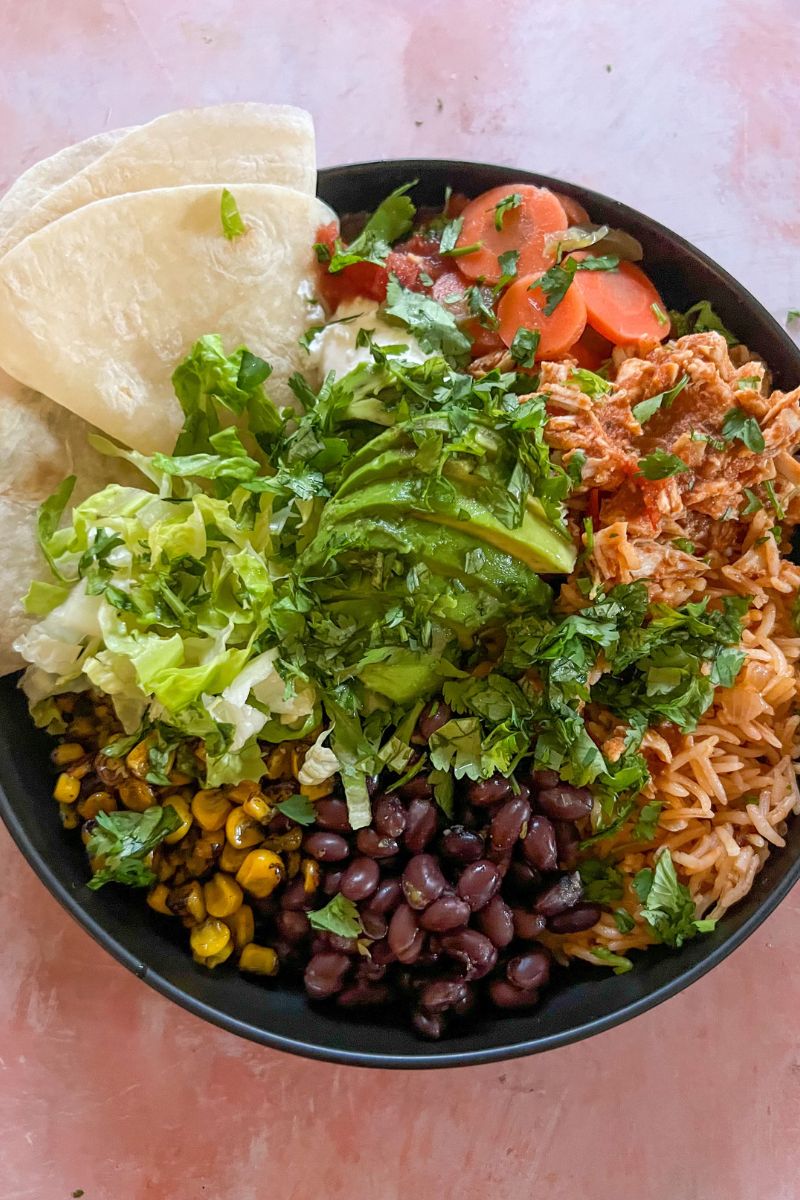 Tuesday: Pan seared salmon with fennel orange salad and roasted potatoes
Wednesday: Lasagna soup with herby ricotta – comfort food to the max!
Thursday: Chicken marsala and a fall fig and gorgonzola salad
Friday: Mediterranean style lentil soup – one of my favorites with excellent reviews!
Saturday: Chicken Cauliflower Makloubeh and Arabic salad
Breakfast: My take on Chilaquiles in honor of the amazing chilaquiles I had this weekend!
Dessert: Salted brown butter chocolate chip cookies