Mexican Chicken and Rice Soup
Last Updated on January 1, 2023 by Jacqueline Rafidi
We all know chicken soup is good for the soul and this Mexican chicken and rice soup is giving all the soulful and cozy feels.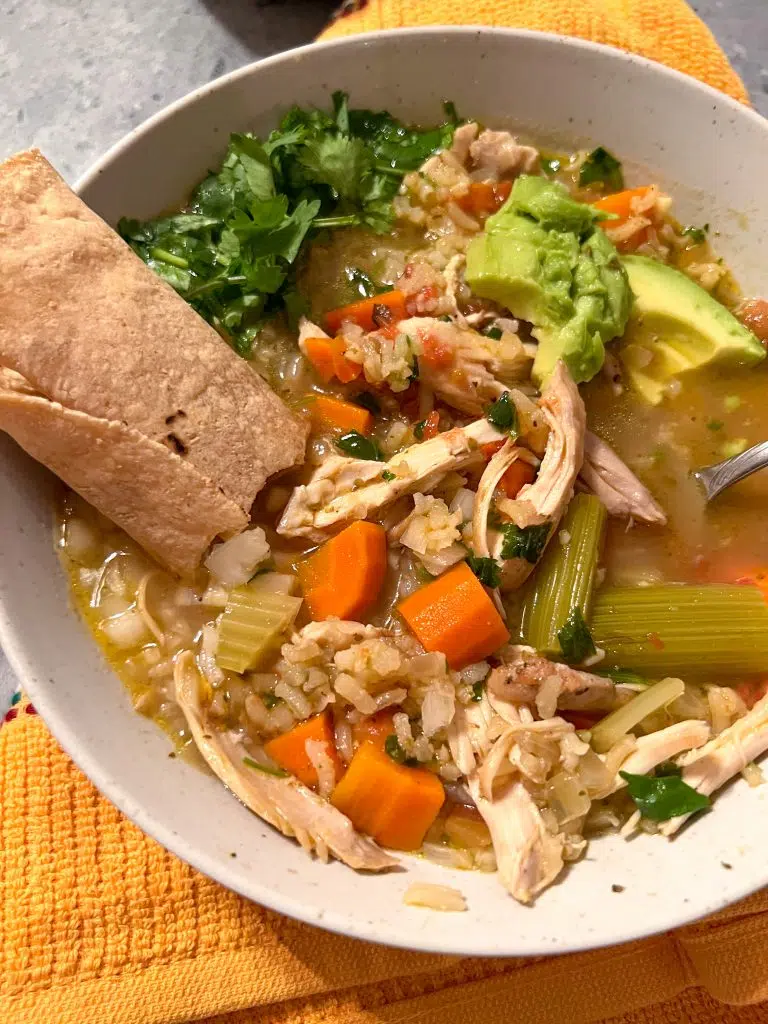 This soup is inspired by a Mexican restaurant here in San Diego called Lourdes known for their caldo de pollo con arroz – which translates to chicken soup with rice. Although Lourdes has a full menu, their most popular item by far is their Mexican chicken and rice soup.
I was introduced to this soup a year ago and just kept craving it. I immediately tried my hand at my own version of this soup and here I am one year later sharing it with you!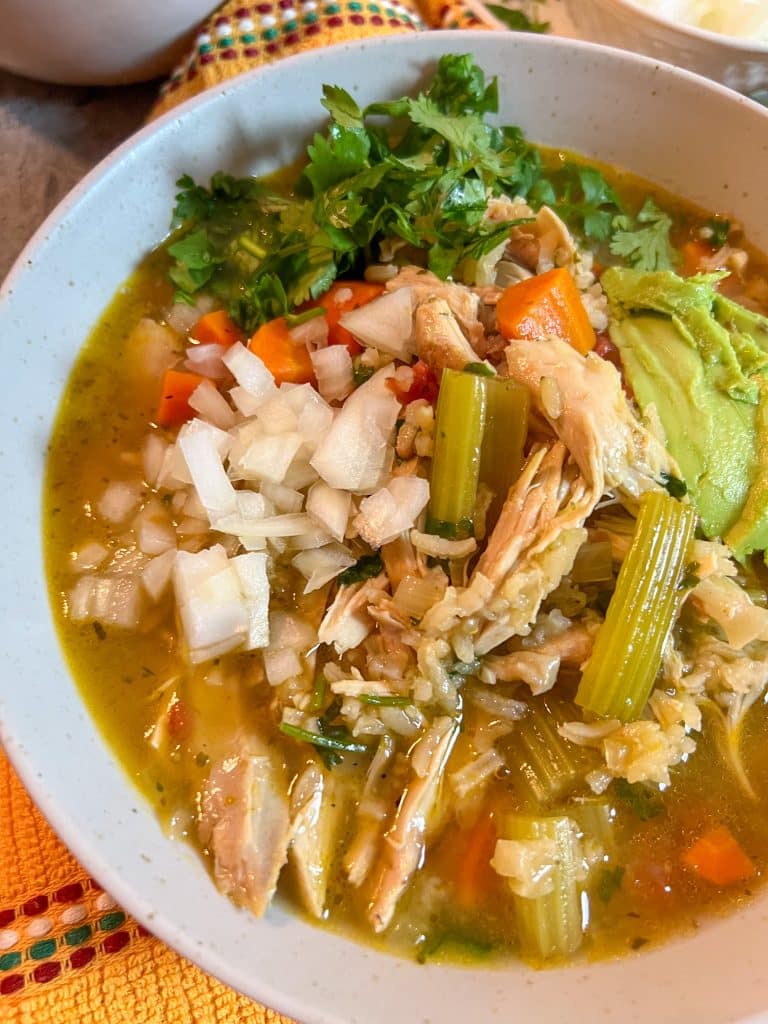 Making this Mexican chicken and rice soup is easy
Start by boiling a whole bone-in chicken with half an onion and some bay leaves. The bones are really what lend so much flavor and nutrients to the broth. Shred the chicken, add in the rice and veggies. It's really quite simple. What make it is the spices and of course the toppings.
At Lourdes, they always serve this with cilantro, onions and avocado on top so naturally I did the same. I also added a dollop of salsa on top, tortilla chips on the side and a corn tortilla for dunking because WHY NOT? Squeeze some fresh lime on there as well and it's just a masterpiece.
I just know you're going to love this one and can't wait for you to give it a try! First soup recipe of this soup season and I am here for it!
Some of my most popular soups:
Mediterranean lentil soup
Maftoul – Palestinian couscous chicken soup
Mushroom wild rice soup (Vegetarian)
Homemade wonton soup (Freezer friendly)
Spicy korean silken tofu soup – Soondubu jjigae (vegan)
When you make this Mexican chicken and rice soup, comment down below and rate this recipe to let me know your thoughts! Also share a picture or tag me on Instagram @thebitewithjackie, I love seeing your remakes!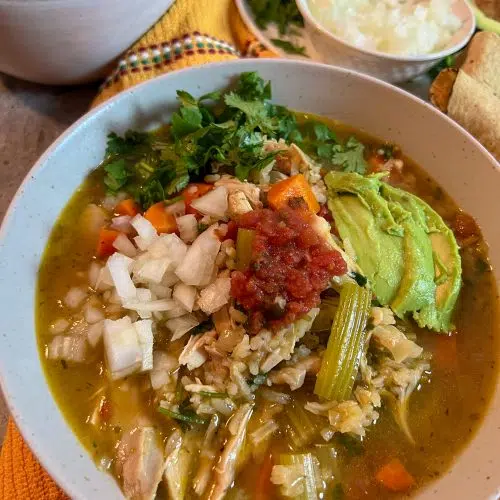 Mexican Chicken and Rice Soup
A comforting bowl of this hearty soup sure is good for the soul
Ingredients
3

Tablespoons

avocado oil

or other neutral oil, divided

1

whole chicken

about 4 lbs – cut into 8 pieces, skin removed

2

teaspoon

cumin

divided

2

Tablespoon

dried oregano

divided

2

medium onions

2

bay leaves

3

carrots

peeled and diced

3

celery stalks

ends trimmed and cut into bite size pieces

2-3 to

matoes on the vine

diced

2

cloves

garlic

finely minced

1

Tablespoon

chicken bouillon

1

Tablespoon

tomato bouillon

1

teaspoon

coriander

1

heaping cup jasmine rice

rinsed well

½

bunch cilantro

chopped

Salt and pepper to taste
For serving:
Avocado

Chopped cilantro

Finely diced onion

Warm corn or flour tortilla

Tortilla chips

Salsa

Lime wedges
Instructions
Season the chicken with 1 teaspoon cumin, 1 Tablespoon dried oregano, salt and pepper. To a large pot with a matching lid, add 2 Tablespoons of avocado oil on medium high heat and sear the chicken in batches until both sides of each piece are golden brown – I usually do this in 2 batches. Remove to a plate and set aside.

Once the chicken is seared and removed, pour about ½ cup water to the bottom of the pot to lift up all the brown bits. Add the chicken back to pot, starting with the biggest pieces at the bottom, along with ½ onion cut in half (so 2 quarter pieces) and 2 bay leaves. Cover everything with 10-12 cups water, cover the pot, bring to a boil and let simmer for 45 min to 1 hour or until the chicken is fully cooked through.

While the chicken boils, chop up all the veggies and prepare the serving ingredients.

Once the chicken is done, remove all the pieces to a plate, scoop out any foam that rises to the top and strain out the broth with a slotted spoon. Add in the chopped carrots, celery, and tomatoes, diced onion and minced garlic, coriander, chicken and tomato bouillons and the remaining cumin and dried oregano. Taste the broth and season with additional salt and pepper to taste. Bring back to a boil, put the lid on halfway and let it simmer for another 15-20 min. In the meantime, de-bone and shred the all the chicken.

In a skillet, toast up the rice with the remaining Tablespoon of avocado oil for 3-4 minutes or until slightly golden brown. ***Add the toasted rice directly into the pot*** (see note) along with the shredded chicken. Once the rice is fully cooked through, the soup is ready to serve! Add all your favorite toppings from the suggested ones listed and enjoy!
Notes
When you add the rice directly to the pot, it continues to soak up the liquid as it sits. The leftovers may have a porridge-like consistency. When you heat them up, add water to each serving to bring it back to a soup consistency.
Alternatively, you could cook the rice separately like normal in a small pot with ½ cup of tomato sauce, water and a bit of salt. Add the cooked rice separately to each serving.