Napa Cabbage Salad with Avocado Dressing and Garlic Shrimp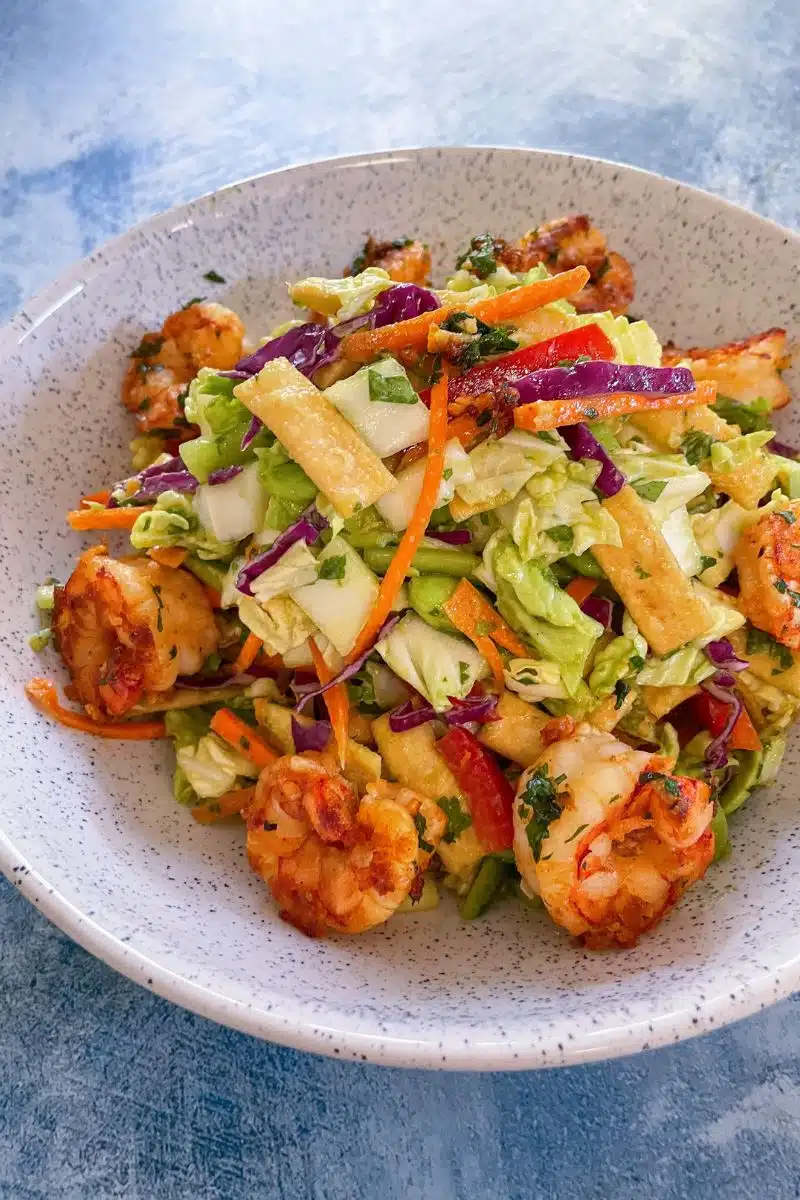 Last Updated on July 2, 2023 by Jacqueline Rafidi
Napa cabbage salad with avocado dressing and garlic shrimp is going to be a weeknight favorite. And if you make it the way I do – chop up extra of all the veggies, wash and run the sturdier ones through a salad spinner to dry them off and keep it in an airtight container without dressing – you can have a simple, delicious and feel-good weeknight dinner ready in no time. 
Napa Cabbage Salad with Avocado Dressing and Garlic Shrimp
Salad: The part of this salad that takes the longest is chopping all the veggies. I do this first to knock it all out which makes me feel like the hard part is done!
For this napa cabbage salad with avocado dressing and garlic shrimp, I chop the napa cabbage up into small, bite size pieces, then I wash it in cold water and run it through a salad spinner to keep it fresher longer. Alternatively, if you can't find napa cabbage where you are, you can use a store-bought cabbage slaw or small head of green cabbage, but since its tougher than napa cabbage you'll want to chop it up more finely. Add it to a large bowl big enough to mix all the ingredients together once they're chopped.
Chop the purple cabbage next, the bell pepper, carrots, green onion, fresh cilantro. Combine cabbage with the rest of the chopped ingredients and mix well together in a large bowl. The base of your salad is done! Set it aside while you work on the two quicker parts.
Salad Dressing: This creamy avocado dressing makes the whole meal! Add all the dressing ingredients to a food processor or small blender: ripe avocado, garlic clove, fresh lime juice, a bit of soy sauce, extra virgin olive oil, honey, salt and pepper. Blend until smooth and add to a small bowl or tupperware. Because this dressing is mixed with the juice of a lime (which is one of the key ingredients here), it keeps the avocado in the dressing staying green the next day (and beyond!). The dressing really doesn't have a lot of ingredients but together, they're the perfect balance. 
Shrimp: Mix your peeled and deveined shrimp with the paprika, salt and pepper. Heat a non-stick pan over medium-high heat and add the butter and neutral oil – avocado oil or vegetable oil would work best here. Add the raw shrimp to the skillet in one even layer making sure to cook in batches so they can develop a golden brown crust. Flip the shrimp and let it cook on the other side. Once the shrimp cooks, add the garlic and fresh herbs and remove from heat
Plating and eating
This Napa cabbage salad with avocado dressing and garlic shrimp makes the perfect addition to any summer barbecue and also makes a great addition to any weekly meal plan! Like I mentioned earlier, I like to do all the chopping and make extra salad to have on hand through the week and add the dressing as I eat it.
If you plan to eat this salad right away, add your desired portion to a medium bowl, mix in a bit of the dressing (I do 1-2 Tablespoons at a time to be sure it's not too much), add in your wonton crisps if you're using and add it to a plate! If you'd like, you can drizzle some sesame oil or sprinkle on some sesame seeds to your taste. Add it piled high to a shallow bowl – probably my favorite thing to eat out of! Add your sauteed shrimp all around and enjoy. Its one of my weeknight favorites and can make a great side dish to a meal.
To add this summer salad into your meal plan, keep the extra dressing in a small, sealed tupperware. It lasts for days in the fridge and stays green thanks to the fresh lime juice! Add it along with any other toppings – a chopped fresno red pepper would be a good topping for a spicy kick! I tend to eat this as a main dish for lunch and a side dish for dinner.
I hope you give this napa cabbage salad with avocado dressing and garlic shrimp a try! The combination is perfection! It's one of the most delicious salads that can be prepped ahead and made in bulk to enjoy later which is probably my favorite thing about it. If you've never had napa cabbage, let this be the salad to make this summer. It's colorful, flavorful, filling and delicious! With July 4th around the corner, I can think of no better thing to add to your spread!
More recipes to love
Freekeh salad with shrimp, corn and Middle Eastern chimichurri
Pan seared salmon with fennel orange salad and roasted potatoes
Fattoush salad

When you make this Napa cabbage salad with avocado dressing and garlic shrimp, comment down below and rate this recipe to let me know your thoughts! Also, share a picture or tag me on Instagram @thebitewithjackie, I love seeing your remakes!
Napa Cabbage Salad with Avocado Dressing and Garlic Shrimp
Crunchy and colorful salad with flavorful, juicy shrimp
Ingredients
For the salad:
½

head napa cabbage

chopped

¼

medium red cabbage

finely chopped

½

red bell pepper

sliced thin and cut in half

1

carrot

julienned

1 ½

cups

edamame

½

bunch cilantro

chopped finely

1

green onion

sliced thinly

Handful of crispy wonton strips

optional
For the dressing:
1

avocado

1

large clove garlic

¼

cup

olive oil

1

lime

juice and zest

2

teaspoons

honey

1

teaspoon

soy sauce

Salt and pepper to taste
For the shrimp:
1

lb

shrimp

peeled and deveined

2

Tablespoons

unsalted butter

1

Tablespoon

avocado oil

or other neutral oil

1

Tablespoon

paprika

2

cloves

garlic

minced

1

handful parsley

chopped

Salt and pepper to taste
Instructions
Add all the salad ingredients to a large bowl and toss everything together.

Add all the dressing ingredients to a food processor or blender and blend for a full minute or until its fully mixed and the garlic is chopped fine. Place in a bowl and set aside.

Add the paprika, salt and pepper to the shrimp and toss together. Preheat a large skillet over medium high heat and add the butter and avocado oil. Once its heated, add the shrimp. Cook until slightly golden brown on one side 2-3 minutes, flip and cook the other side until completely cooked through, another 2 minutes. Once the shrimp is just about cooked through, add the chopped garlic and cook for about 30 seconds till fragrant. Finish it off with the fresh parsley and remove from heat.

To plate, mix the salad with the dressing and the crispy wonton strips. Pile the salad up high in a wide bowl and add the shrimp all around. Sahtein and enjoy!