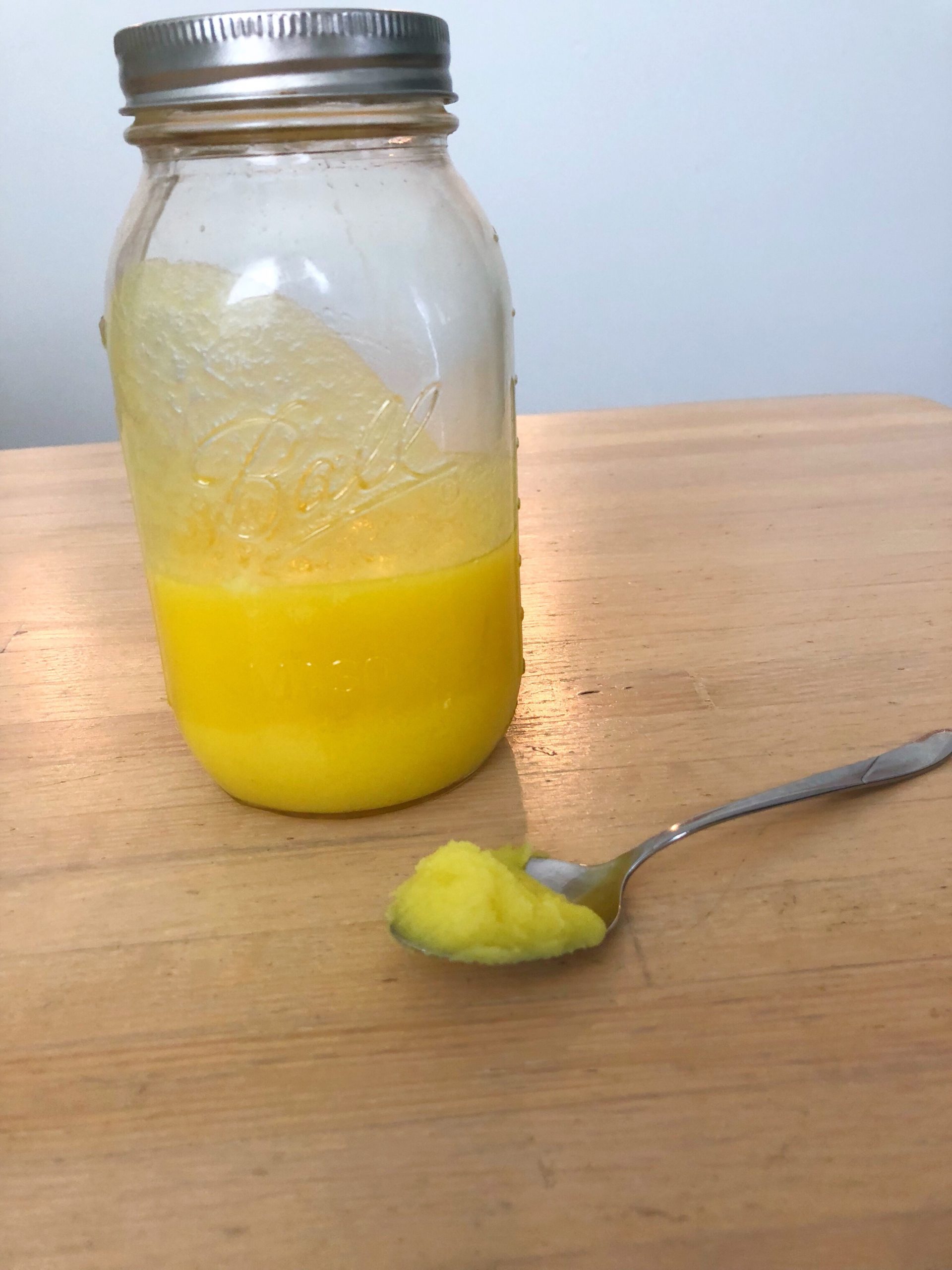 Last Updated on July 2, 2022 by Team HH
What is samneh
Samneh, also known as ghee or clarified butter, is a staple in Arab cooking – especially in our sweets. It is very easy to make at home and requires only one ingredient – unsalted butter. Traditionally, we also add a spice called hawajet il samneh, a mixed spice only used in this butter which gives the samneh a more bold yellow color, an intoxicating aroma, and unbeatable taste. Adding this spice, for me, is what makes Arab sweets taste like they came from back home.
Where to find samneh spice
I have only seen samneh spice, or hawajet il samneh in one place in the U.S. (aside from the one my Tete – grandma – brings me back from Jerusalem), that is on Hashems. Below is a link where you can purchase the spice and they do ship worldwide!
How to make clarified butter/ghee/samneh at home
To make samneh, place all your unwrapped, unsalted butter in a pot and let it melt on medium heat. Once its melted and starts to bubble slightly, bring the heat down to a very low simmer and carefully skim off all the white milk solids that rise to the top. When you get towards the end, you may still see small amounts of the milk solids in the melted butter – this is normal. Add in your samneh spice and you'll notice the butter start to clear up immediately. Remove the last bit of the milk solids and turn the heat off. Let it cool a bit before placing it in a jar. As it cools, it will solidify and become opaque
How to use samneh
I use this ghee in most of my Arab desserts like knafeh, knafeh french toast, ghraybeh, baklawa, baklava cinnamon rolls and more. It's delicious to use for eggs or fried cheese. I use it to fry garlic to add to my laban immo and I also love using this instead of regular butter for making rice krispies!
How to store ghee
Does ghee or clarified butter need to be refrigerated? It actually doesn't! One of the benefits of clarified butter is that it can be stored at room temperature on the countertop because the lactose/milk solids have been removed!
When you make this, share a picture with me on Instagram @thebitewithjackie so I can share with my . Also, leave a comment below and share your thoughts!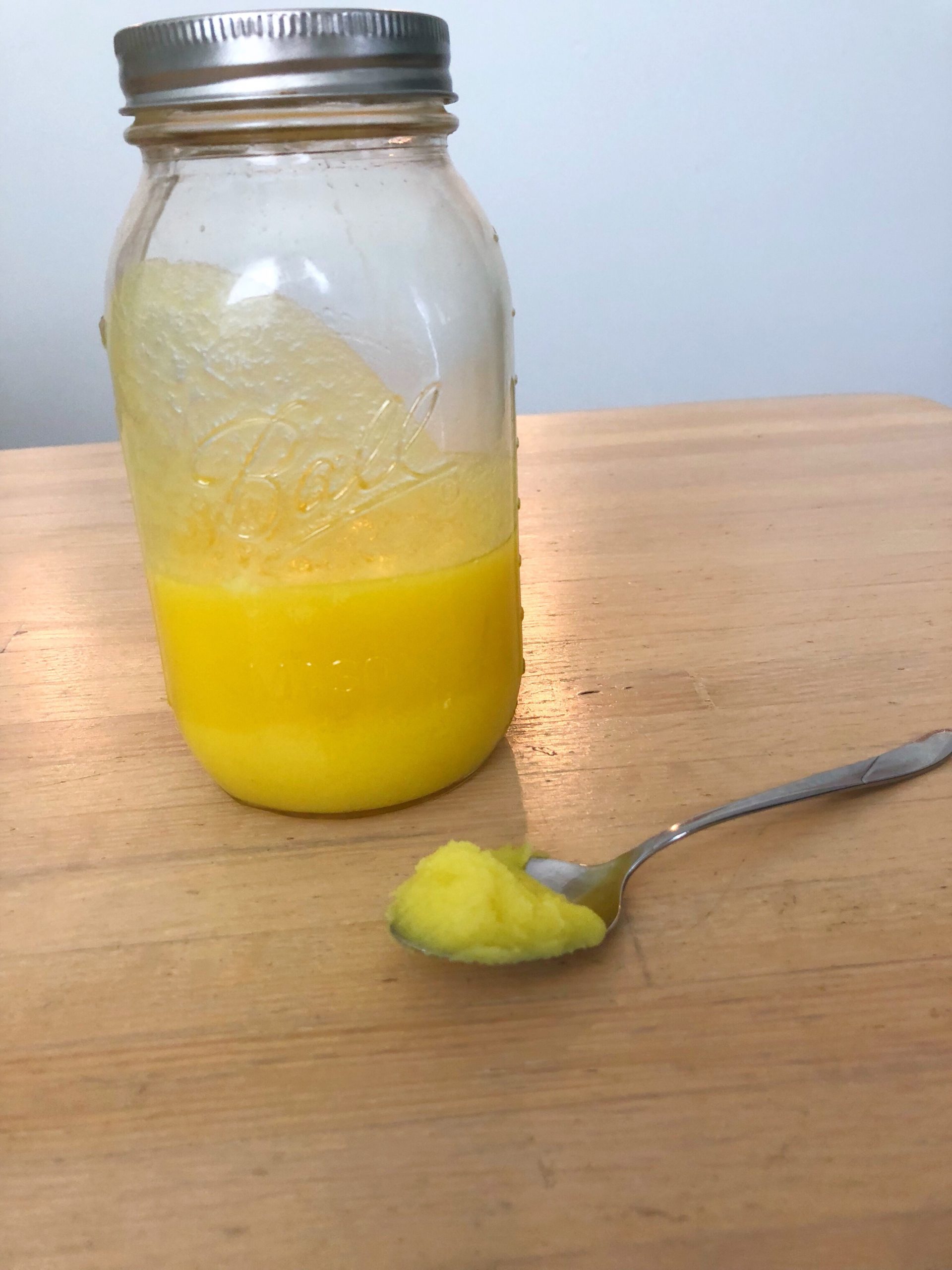 Samneh
You make this with just one main ingredient of butter!
Ingredients
4

sticks of unsalted butter

16 oz

¼

– ½ teaspoon samneh spice

optional
Instructions
Remove butter from packaging. Add all sticks to a small saucepan on medium-high heat. Once butter is completely melted, the milk solids will begin to separate from the fat. Use your spoon to remove the milk solids (the white, cloudy parts) by lightly scraping the tops. Do not scrape the bottom of the pot. Keep doing this little by little being sure not remove the butter along with it as best as you can.

The butter will begin to look clear as you remove the white solids. Add the spice if using and remove the foam that builds up. Once the foam is gone and you are left with a clear butter, you have ghee! Let cool slightly before adding to a glass jar with lid. Use with eggs, on toast, in stir frys, in desserts, and anywhere else you can use butter or oil!