Smoky Shrimp Tacos with Creamy Slaw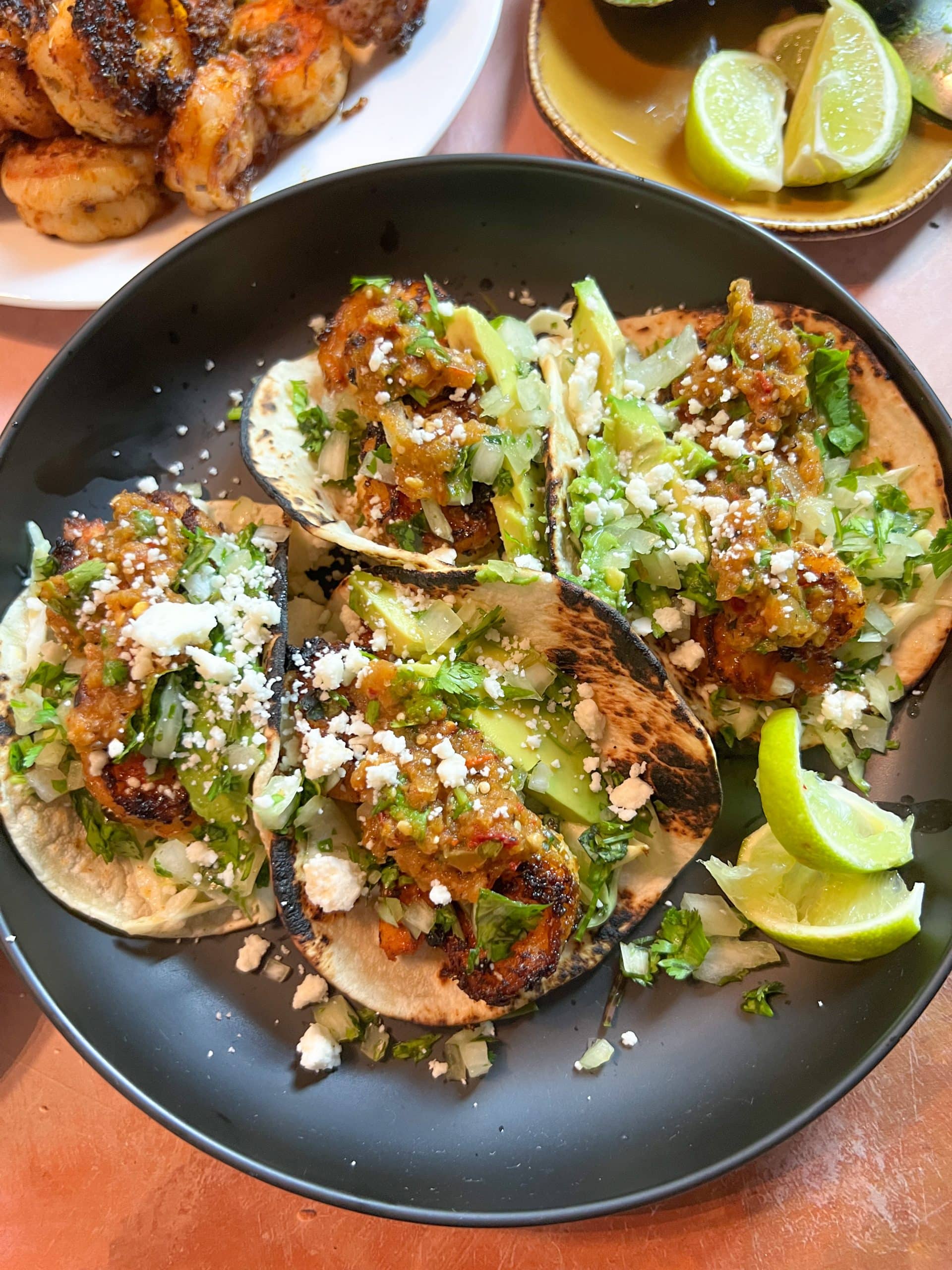 Last Updated on June 3, 2023 by Jacqueline Rafidi
Tacos are not just for Tuesdays! Especially these smoky shrimp tacos with creamy slaw! This is a weeknight meal at its finest and perfect for cinco de Mayo coming up!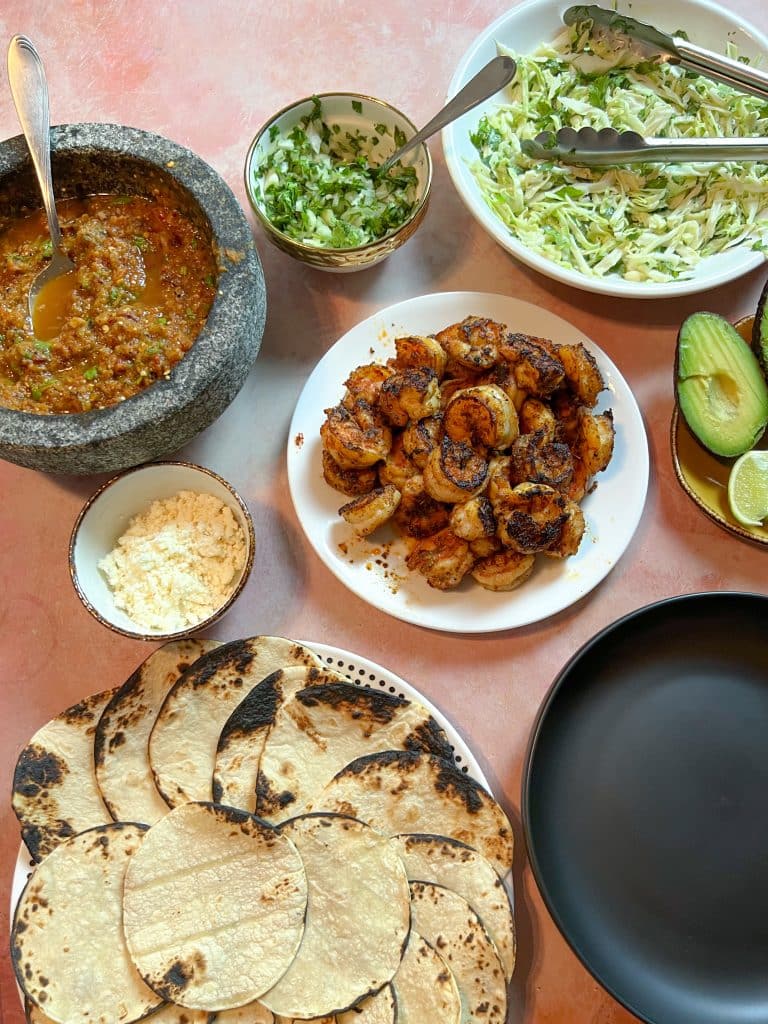 Smoky Shrimp Tacos with Creamy Slaw
The Slaw: I wasn't really planning on make this a slaw. I was originally going to just add shredded cabbage and chopped cilantro. But I felt it needed a creamy element and I'm so glad I did. Its the simplest of slaws – Just cabbage and cilantro. The dressing is just mayo (I prefer kewpie mayo because I like the taste better, but any will work!), honey for a touch of sweetness and a good squeeze of lime juice really bring this all together.
The Shrimp: The smoky element comes from smoked paprika which adds a pretty dominant flavor. More paprika for color, dried oregano, garlic and onion for more flavor. Simple and delicious! I love using large, wild caught shrimp best in general, but any of your favorite shrimp would work! Trader Joe's sells a great Argentinian red shrimp in their freezer section, that is also a go-to for me for a quick meal.
The Tortilla, toppings and assembly: I love corn tortillas for these but my husband, Awad, prefers flour so I always char up a bit of both. I start with some of the slaw, add the shrimp, top it with some diced onions and more chopped cilantro, salsa, avocado, cotija cheese and pineapple. Yeah, it's a lot going on for a little taco but MAN each bite is so so good and perfectly balanced.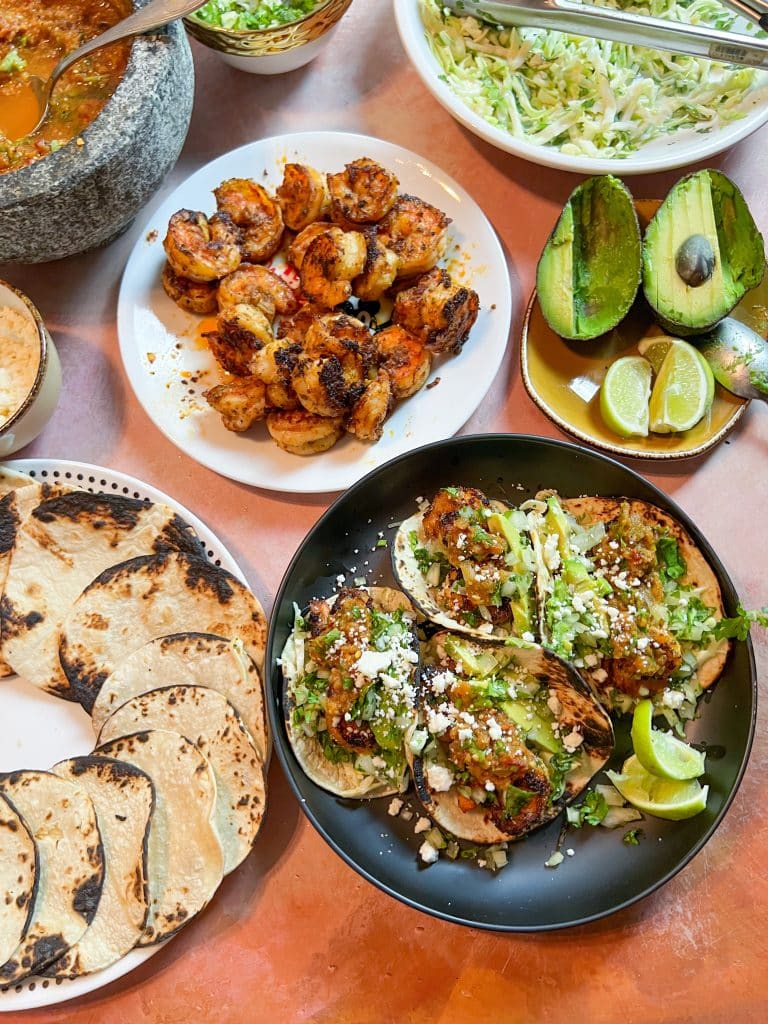 Suggestions
Dairy Free: Omit the Cotija cheese. For the slaw, omit the mayo and leave the slaw without dressing, OR switch for a vegan mayo or nut butter – cashew would probably work really well here!
Lower Carb Options: Turn these tacos into a bowl! Fill it with greens, cauliflower rice (there's a really good and pretty spicy one from Trader Joes that I love), toss in some extra veggies you love (leftover roasted or grilled veggies would be perfect here). Add all the taco toppings you like as well. For the dressing, mix some Greek yogurt with your favorite salsa till you get it exactly how you like and drizzle that on.
Love tacos? Try these too!
Pollo asado tacos
Carne asada tacos
Baja fish tacos
Black bean and mushroom breakfast tacos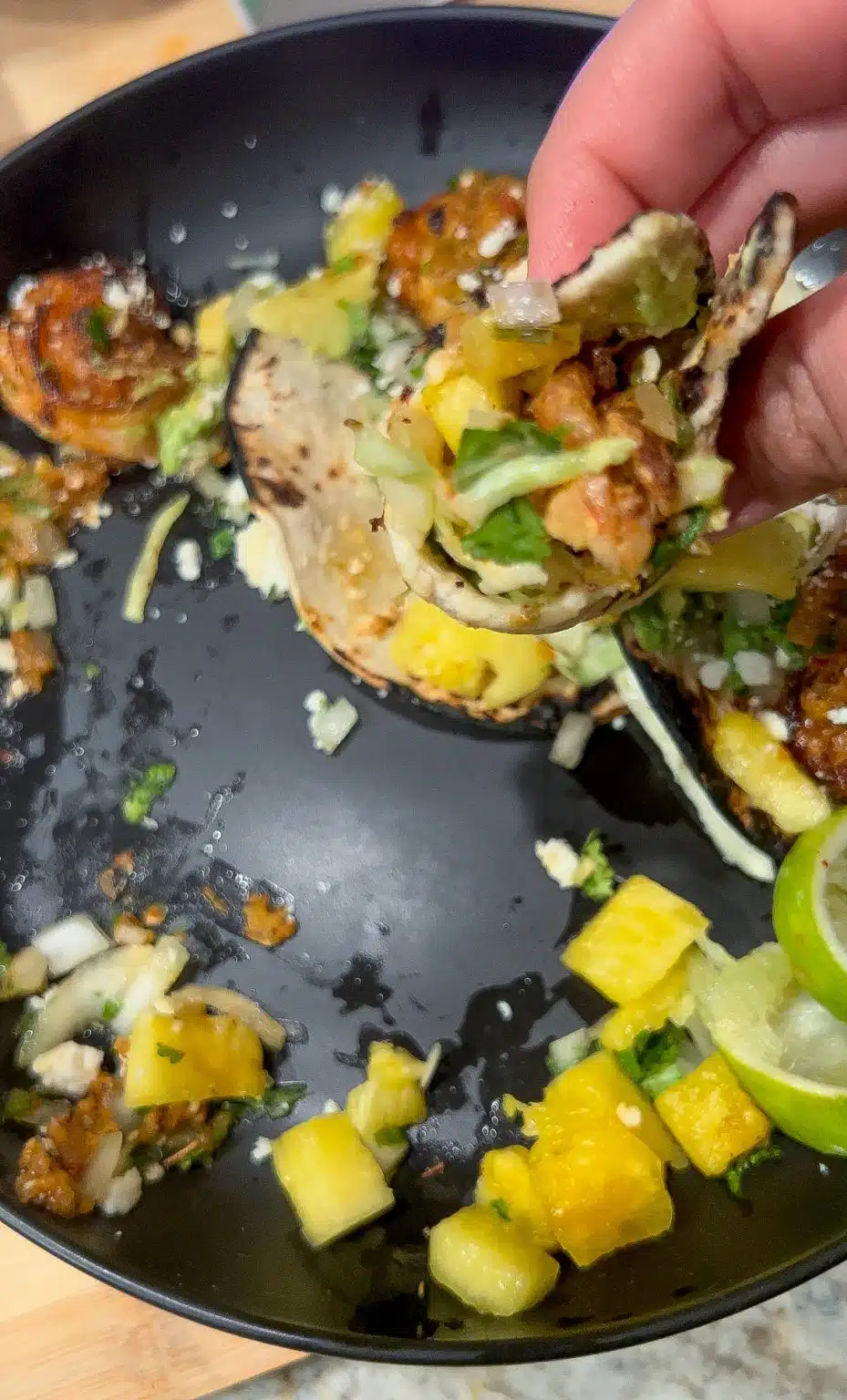 When you make these smoky shrimp tacos with creamy slaw, comment down below and rate this recipe to let me know your thoughts! Also share a picture or tag me on Instagram @thebitewithjackie, I love seeing your remakes!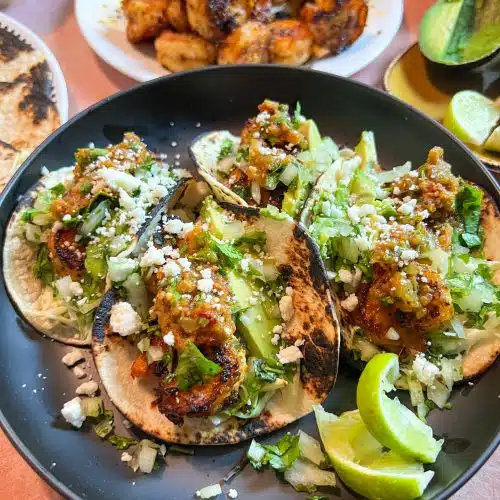 Smoky Shrimp Tacos with Creamy Slaw
A little spice, a little sweet. The perfect blend of fresh and bold flavors.
Ingredients
For the Slaw:
1/3

of a small head of cabbage

shredded or chopped thinly

½

bunch cilantro

bottom of stems removed and chopped thinly

3

Tablespoons

mayo

I like to use kewpie mayo here but any kind works

1

Tablespoon

honey

Juice from ½ – 1 lime

Salt and pepper to taste
For the Shrimp:
1.5

lb

shrimp

peeled and deveined

1

Tablespoon

dried oregano

1

teaspoon

smoked paprika

1

teaspoon

chili powder

1

teaspoon

paprika

½

teaspoon

onion powder

½

teaspoon

garlic powder

Salt and pepper to taste

2

tablespoons

avocado oil or other neutral oil for cooking
For the Tacos (Use some or all of these to build the best tacos!):
Tortillas – flour or corn

preferably charred

Cotija cheese

crumbled

Freshly diced pineapple

Lime wedges

Salsas

Sliced avocados

Finely chopped onions and cilantro
Instructions
Start with the slaw. Add the shredded cabbage and chopped cilantro to a bowl. In a smaller bowl, combine the mayo, honey, lime juice, salt and pepper and mix well. Add that dressing to the cabbage and cilantro. Mix till all the veggies are evenly coated and set aside.

Next, work on the shrimp. Make sure they're patted dry well so they develop a nice sear while cooking. Add the cleaned shrimp to a bowl along with all the seasonings. Mix well. Heat a large skillet with avocado oil to medium high. Cook the shrimp in batches making sure there is room for the shrimp to sear instead of steam. Leave the shrimp undisturbed for about 2 minutes (depending on the size) or until halfway cooked. Flip once more and cook an additional 1-2 minutes until fully cooked through. Remove to a plate.

To assemble the tacos, char up your tortillas, add a bit of the slaw at the bottom, top with the shrimp and all other toppings you want! I love using a little of each of the toppings listed. The pineapple especially goes well with the smoky shrimp! Enjoy!