Spinach Artichoke Garlic Bread Rolls
Last Updated on February 5, 2023 by Jacqueline Rafidi
Spinach Artichoke Garlic Bread Rolls. The most amazing bite you'll have during the big game or any time for that matter!
Fluffy dough topped with garlic butter and stuffed with the perfect spinach artichoke filling. I first made these rolls a couple years ago when it came to my mind around the Superbowl season and I've been wanting to share it ever since.
For this recipe, I use the same dough from my baklava cinnamon rolls because it's truly just the perfect dough. The only difference is I use 1 teaspoon of sugar here instead of 2 Tablespoons since it's a savory recipe.
How to make these Spinach Artichoke Garlic Bread Rolls
Start with the dough. I like to use a stand mixer for this since it comes together so quickly. Combine the wet ingredients with the dry and knead together for about 5 minutes until a smooth dough ball forms. Spread about a Tablespoon of olive oil over the dough to prevent it from forming a crust and let it rise till doubled in size.
Make the spinach artichoke filling:
Frozen Spinach: One of the best bangs for your buck you'll get at the grocery store. Make sure its thawed and drained of ALL liquid
Marinated Artichokes: Because I just think it adds another element of flavor instead of canned artichokes
Cream Cheese: Of course
Greek yogurt: A substitute for sour cream or mayonnaise which I prefer and always have on hand
Shredded Italian cheeses: I tend to use a mix of asiago, provolone, and mozzarella.
Parmigiano: Freshly grated is best here
Once the dough has risen, roll it out on a clean, floured surface and evenly spread out the spinach artichoke mixture leaving a 1 inch border. Roll it up, cut it into 12 even pieces with a serrated knife, add them to a buttered 9×13 baking pan and let it rise for another hour until doubled in size again. Top these beauties off with half the garlic butter, bake them up and Drizzle on the rest of the garlic butter.
These are JUST HEAVENLY. I mean there really is no other word for how delicious they are as a treat – they're quite decadent. Spinach artichoke garlic bread rolls would also be the perfect addition to a Superbowl or other game day spread! I just know you're going to love them!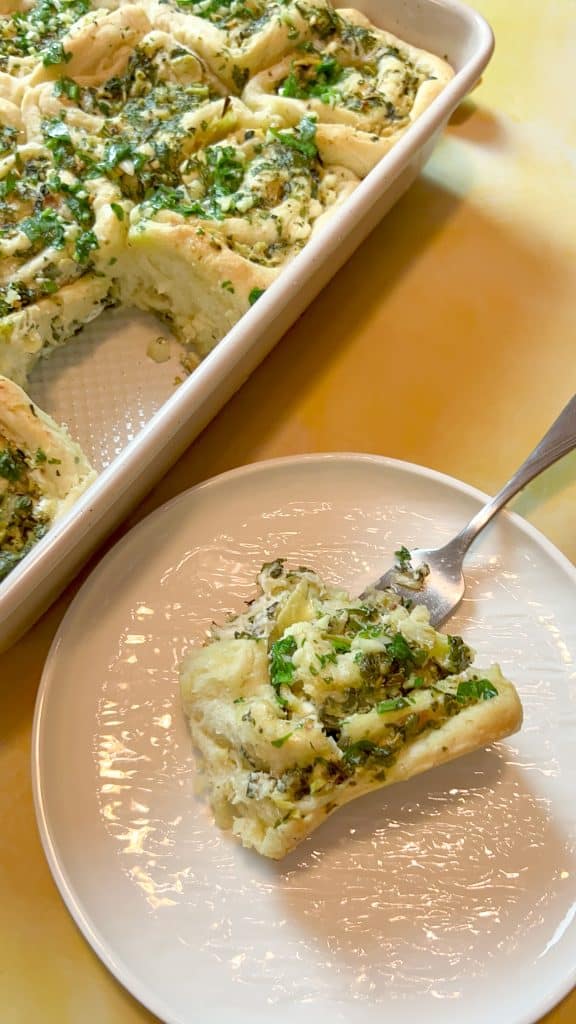 When you make these spinach artichoke garlic bread rolls, comment down below and rate this recipe to let me know your thoughts! Also share a picture or tag me on Instagram @thebitewithjackie, I love seeing your remakes!
Spinach Artichoke Garlic Bread Rolls
Fluffy garlic bread dough stuffed with a warm spinach artichoke filling.
Ingredients
For the dough:
1

cup

warm milk

(whole or 2% both work fine) about 110-115F

¼

cup

warm water

about 110-115F

1

teaspoon

granulated sugar

2 ¼

teaspoons

yeast

or 1 packet

1

egg

¼

cup

unsalted butter

melted

3 ¼

cup

all-purpose flour

1

teaspoon

salt

Olive oil for coating
For the filling:
2

Tablespoons

olive oil

1

small yellow onion

finely diced

3

cloves

garlic

finely minced

10

oz

frozen spinach

1 box, thawed and squeezed of excess water

1

– 12oz jar marinated artichokes

drained and chopped

1

– 8oz block cream cheese

softened at room temp

1

cup

plain Greek yogurt

1

cup

shredded Italian mixed cheeses

1

teaspoon

dried Oregano

1

teaspoon

garlic powder

½

cup

freshly grated Parmigiano

Salt and pepper to taste
For the garlic butter:
1/3

cup

unsalted butter

melted

4

cloves

garlic

finely chopped

Handful flatleaf parsley

finely chopped

Salt to taste
Instructions
Start preparing the dough by mixing together the warm milk and warm water with the sugar and yeast. Let this sit for 5 minutes until the yeast is foamy, then add it to a stand mixer with the dough hook attachment or a large bowl along with the egg and melted butter. Mix gently until combined. Mix the flour and salt together and add half to the wet ingredients. Knead the dough on medium speed for just about 30 seconds. Scrape off the sides of the mixing bowl to be sure everything is getting combined, then add the remainder of the dry mixture and mix on medium speed till it forms a smooth dough ball – about 4-5 minutes.

Remove the bowl from the stand mixer and take out the dough hook. Use a rubber spatula to gently separate the dough from the sides of the bowl. Drizzle about 1 Tablespoon of olive oil on the dough and rub it around the entire surface – this keeps the dough from developing a hard crust while rising. Cover the bowl with a clean kitchen towel and let it rise in a warm, draft free area. The dough should rise for 1 hour if using rapid rise yeast or 1 1/2 hours if using traditional yeast. You're looking for it to double in size.

While the dough is rising, prepare the filling. Sautee the onions with the olive oil and a sprinkle of salt and pepper in a skillet over medium heat until softened, add in the garlic and cook down for another 30-45 seconds and remove from heat. In a large mixing bowl, add the spinach, chopped artichokes, cream cheese, Greek yogurt, Italian shredded cheese, dried oregano, garlic powder, Parmigiano, salt and pepper. Add the cooked onions and garlic to the bowl and mix everything until well combined. Set aside.

Once the dough has risen, flour a clean working surface and roll the dough out into about a 13×15 inch rectangle. Add the spinach artichoke mixture to the dough and spread it evenly leaving about a 1-inch border along the edges. Starting from one of the long ends, roll up the dough tightly until the entire roll reaches the opposite end, tucking the dough under slightly as you go to be sure the roll does not loosen. Once it's rolled, take some of the dough at the farther end, and gently stretch it to fold over the roll and seal it. Bring the roll towards you seam side down. Cut the roll in half using a serrated knife, then half again, then cut each of those four pieces into thirds so you're left with 12 rolls. Place each roll in a buttered 9×13 baking dish cut side up. Cover with the kitchen towel and let them rise for 45 minutes if using rapid rise yeast or 1 ½ hours if using regular yeast.

Preheat the oven to 350F. Make the garlic butter by combining all the ingredients together in a small bowl. Sprinkle or brush half onto the rolls and bake for 30 minutes or until the edges are golden brown. When they come out, sprinkle on the remaining garlic butter and enjoy! Sahtein!