Homemade Chicken Shawarma Bowls
Last Updated on September 20, 2023 by Jacqueline Rafidi
These are the BEST homemade chicken shawarma bowls of all time.
Ok I always look forward to dinner. But THIS meal. This is one of my favorites.
If you're a fan of CAVA or "Chipotle style" restaurants, this recipe is for you and yes they are the BEST chicken shawarma bowls ever. If you've tried my chicken shawarma sandwiches, you know this marinade is heavenly. All the rest of the components really work as a powerhouse of flavor in each bite and I just know you're going to love it as much as we do!
Components for these Homemade chicken shawarma bowls
What makes these the best chicken shawarma bowls of all time? These key ingredients are what really make this recipe pop.
The chicken: This marinade is what I use for my chicken shawarma sandwiches. Honestly, nothing beats this combination of spices and flavors. It mimics the chicken shawarma at one of my favorite Arab restaurants in Jacksonville and it just can't be beat!
The rice: I like using basmati here. Lately I've just been preferring to use basmati because I like the texture. But I also thought it was fitting here because that's the rice I usually find when I get a shawarma bowl from any restaurant. This rice is similar to the one I make for my sayadieh (which if you haven't tried, it's AMAZING) with a few less spices. We really want the shawarma to shine here.
The salad: Every good bowl needs a salad. Not only does it bring a delicious, fresh flavor, but it also adds texture from the fresh veggies and lots of color which is eye catching and appetizing. This salad is similar to my simple Middle Eastern salad, just a touch different.
The cucumber mint yogurt: This is one of my favorite aspects of the bowl. I load this sauce on like it's nobody's business. It's very similar to tzatziki, with a few key differences. We use mint instead of dill (I like to use dried mint but fresh works as well), instead of grating the cucumber, we very finely dice it up. I also don't add lemon juice. When you make this, you may get hooked – you've been warned.
All the toppings: Yes, you can pick and choose what you want to add. But I suggest adding as much as you can based on what you have/like. The pickles are a MUST for me. So are the sumac red onions. If you like a spicy kick, definitely go for the shatta (A Palestinian hot sauce that goes perfect with the flavors of this shawarma bowl. You can find this at most Arab grocery stores. If you can't find it, sriracha or sambal also work).
I can't wait for you to give this recipe a try!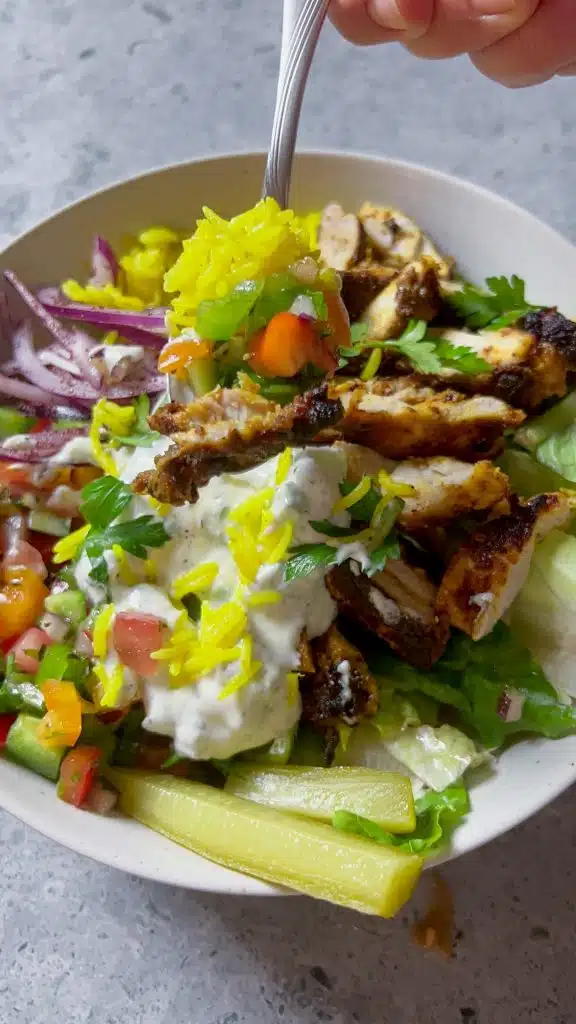 When you make these homemade chicken shawarma bowls, comment down below and rate this recipe to let me know your thoughts! Also share a picture or tag me on Instagram @thebitewithjackie, I love seeing your remakes!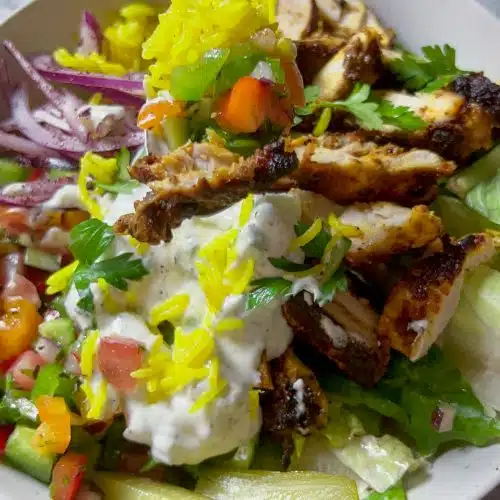 Homemade chicken shawarma bowls
Who needs CAVA or any other take out when you can make this?
Ingredients
For the chicken shawarma:
2

lb

boneless skinless chicken

breast or thighs

¼

cup

Greek yogurt

2

Tablespoons

tomato paste

5

cloves

garlic

grated

3

Tablespoons

lemon juice

2

Tablespoons

olive oil

1

teaspoon

each: cardamom, turmeric, paprika, cumin, sumac, garlic powder, onion powder, allspice, coriander

½

teaspoon

cinnamon

¼

teaspoon

ground ginger

Salt and pepper to taste

Neutral oil for cooking
For the yellow rice:
2

cups

basmati rice

rinsed and drained

1

teaspoon

neutral oil or ghee

1

teaspoon

turmeric

1

teaspoon

coriander

1

teaspoon

garlic powder

½

teaspoon

cardamom

Salt and pepper to taste
For the simple salad:
2

Persian cucumbers

finely diced

2

tomatoes

finely diced

½

red onion

finely diced

2

bell peppers

any color, finely diced

5

radishes

finely diced

½

bunch parsley

finely chopped

¼

cup

extra virgin olive oil

Juice and zest from 1 lemon

Handful of dried mint

crushed finely

Salt and pepper to taste
For the cucumber mint yogurt:
2

cups

Greek yogurt

1

Persian cucumber

finely diced

1

Tablespoon

extra-virgin olive oil

1

clove

garlic

grated

Small handful fresh or dried mint

crushed or finely chopped
Additional optional toppings:
Shatta

Arab hot sauce

Hummus

Toum garlic sauce

Feta cheese

Lettuce

chopped

Pita chips

Thinly sliced red onions sprinkled with sumac

Pickles
Instructions
Start by adding the chicken to a bowl, along with the rest of the chicken ingredients. Mix well, let this marinade for at least an hour or up to overnight.

Prepare the salad by combining all ingredients together. If making this salad a day in advance, don't add the lemon juice, olive oil, salt and pepper until you're ready to serve.

Combine the ingredients for the cucumber mint yogurt. Set aside – this can be made a day in advance.

Make the rice. Add the oil or ghee to a pot over medium high heat. Add the rinsed rice to the pot and mix to coat the grains with the warm oil. Add in the spices, mix again and toast for another 30 seconds before adding in just enough water to cover the rice by ½ inch. Bring this to a boil, then down to a simmer, cover and let it cook for 20 minutes or until soft and fluffy.

Add the neutral oil to a skillet over medium high heat. Cook the chicken in batches 3-4 minutes per side, flipping halfway through – you want it to be golden with a slightly crisp exterior and still juicy on the inside. Remove to a plate and continue cooking the remainder of the chicken. Slice the chicken into strips before serving.

Assemble your bowls! The best part of the meal. I start with a bed of rice and some chopped lettuce. Add some of the sliced chicken shawarma, a couple spoonful's of the simple salad and a generous dollop of the cucumber mint yogurt sauce. Add as many of the toppings listed as I want/have on hand and enjoy!