Last Updated on March 12, 2023 by Jacqueline Rafidi
Vegan Veggie Bibimbap is one of my favorite dishes to make, especially during lent
Veggie Bibimbap
This recipe is my take on the classic Korean dish bibimbap. I tend to make this veggie version often, especially around lent when I eat no meat or dairy. Typically bibimbap is made with either bulgogi, Korean marinated thin strips of beef, or other meat and topped with a fried egg. This version is simple and just as delicious, perfect for those who enjoy plant based meals.
Bibimbap means mixed up rice with a variety of mix ins. You can switch up which vegetables you choose to add in – depending on the time of year I'll make adjustments. Sometimes I'll add spinach (which seems to be more traditional), cabbage, cauliflower. The combination I've used for this veggie bibimbap tends to be my favorite though.
Making the veggie bibimbap
Make a pot of fresh, steamed rice. I make enough to ensure I have leftovers. The first day I make this dish, I like to prep and cook all the ingredients and eat it in a bibimbap bowl with lettuce. The second day, I make a dolsot bibimbap which is made in a Korean clay pot. If you're familiar with my little phrase "Leftovers over greens" which is where I take any leftovers from the previous day and eat them over a bed of greens, I tend to do the reverse with this meal.
The gochujang sauce MAKES this. You can get gochujang at most Asian grocery stores and they come in different spice levels. Mix the gochujang with the soy sauce for umami and saltiness, mirin for sweetness, rice vinegar for acidity and sesame oil for additional flavor along with water to thin it down to your desired consistency.
I love topping my veggie bibimbap with seasoned bean sprouts, kimchi, pickled daikon and green onions. If I'm at the end of my kimchi jar, I'll even add some of the kimchi juice in there too. And when you mix it up and take a big bite, it's just WOW.
If you don't like spicy foods, you can make a teriyaki sauce instead. Just use the teriyaki recipe from my Steak teriyaki bowls.
Love these recipe? Try these too!
Sundubu Jjigae (Spicy Korean silken tofu soup)
Miso tahini stir fry
Steak teriyaki bowls
Peanut noodle stir fry
When you make this veggie bibimbap, comment down below and rate this recipe to let me know your thoughts! Also share a picture or tag me on Instagram @thebitewithjackie, I love seeing your remakes!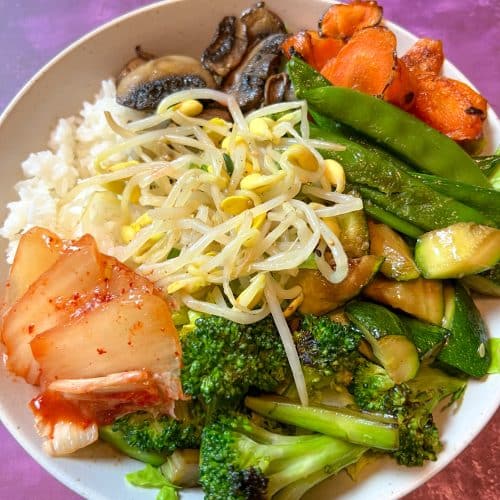 Veggie Bibimbap
AMAZING Korean spicy colorful mixed rice
Ingredients
8

oz

mushrooms

sliced

1

head broccoli

cut into florets

3

carrots

peeled and sliced on the bias or julienned

2

zucchini

cut into bite size or julienned

8

oz

fresh snap peas

3

cup

uncooked short grain rice

I love Koshihikari rice, rinsed and drained well

Salt to taste

Avocado oil or other neutral oil

2

cloves

garlic

1

green onion

white part chopped

1

teaspoon

sesame oil
For the sauce:
3

Tablespoons

gochujang

1

Tablespoon

soy sauce

1

Tablespoon

rice vinegar

1

Tablespoon

mirin

1

Tablespoon

honey

1

Tablespoon

sesame oil

2

Tablespoons

water
Additional toppings:
Kimchi

Seasoned bean sprouts

Pickled daikon

Lettuce

Chopped green onions

Sesame seeds
Instructions
Cook the rice according to package directions. While the rice cooks, prepare all the veggies

Add 1 Tablespoon of avocado oil to a large skillet over medium high heat. Cook each vegetable separately, making sure carrots are last – these will tint the oil and may change the color of the remaining veggies. I typically do snap peas, zucchini, broccoli, mushrooms, then carrots.

Prepare the sauce by mixing all the sauce ingredients together.
Day 1 meal:
I typically make a bowl with half rice and half mixed greens or chopped romaine. Top with a bit of each of the veggies, any other toppings listed, and a generous drizzle of the gochujang sauce. Mix everything together well and enjoy!
Day 2 meal (dolsot bibimbap):
In a pot or preferably a Korean clay/stone pot, heat the 1 teaspoon of sesame oil on medium heat along with the chopped garlic and white portion of the green onions. Once this is fragrant, about 30 seconds, add some of the leftover rice and a splash of water. Cover and let this steam so the rice softens.

Remove the cover, top with the veggies of choice and let these heat through until the rice sizzles. Remove the pot from the heat, add any additional toppings of your choice and a generous drizzle of the gochujang sauce. The rice should be a bit crispy on the parts touching clay pot. Mix everything together well and enjoy!