Spinach and Ricotta stuffed shells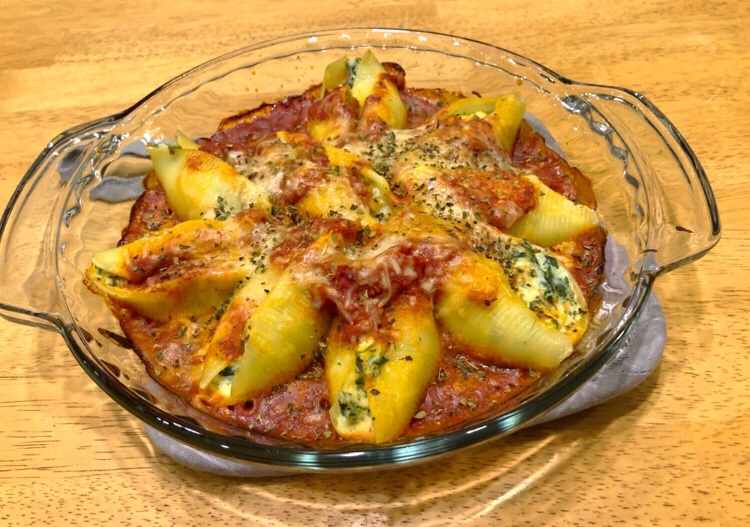 Last Updated on July 2, 2022 by Team HH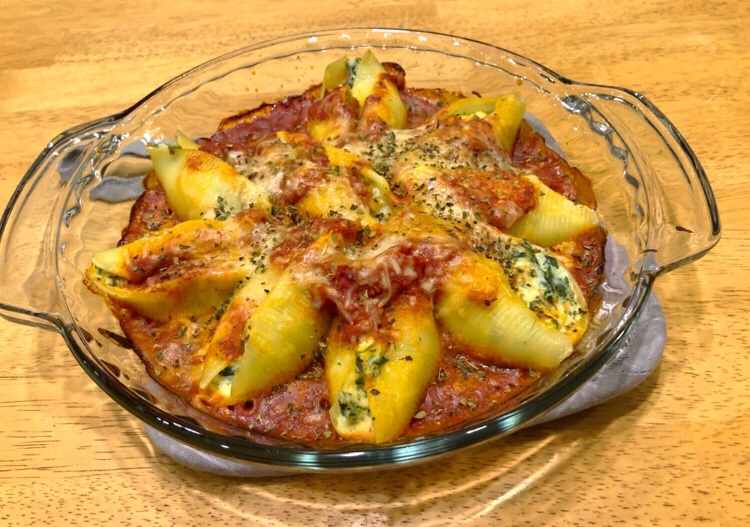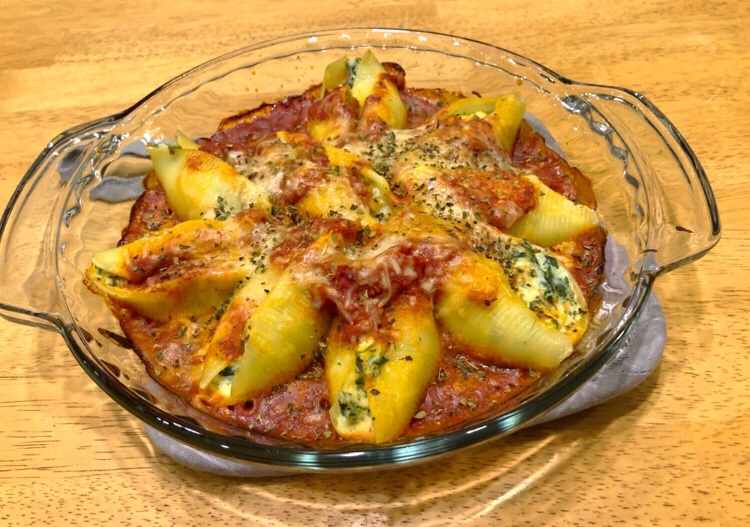 Spinach and Ricotta stuffed shells
A great freezer meal that is so delicious!
Ingredients
⁃ 1 box

12oz jumbo shells

⁃ 1-32oz tub whole milk ricotta cheese

⁃ 2 eggs

⁃ 1-9oz package frozen spinach

thawed and drained

⁃ 1 handful flat leaf Italian parsley

about 1 cup, chopped

⁃ 7-10 basil leaves

chopped

⁃ 1 cup shredded Italian cheese blend

⁃ 1/2 cup shredded Parmesano Reggiano cheese

⁃ 1-24oz jar of tomato sauce

⁃ 1 cup shredded or sliced mozzarella

⁃ 1-2 tablespoons olive oil

⁃ 1 tablespoon oregano

⁃ Salt and pepper to taste
Instructions
⁃ If baking immediately, preheat oven to 350 degrees. If freezing, follow directions to come

⁃ Boil the noodles according to package until 1-2 minutes underdone. Drain, rinse with cold water to stop cooking process, add 1-2 tablespoons of olive oil and set aside

⁃ In a medium mixing bowl, mix ricotta cheese and eggs until well combined. Add drained spinach to ricotta mixture and mix. Add basil, parsley, Parmesan, Italian cheese blend, oregano, salt and pepper and mix until well combined

⁃ In a medium baking dish, add 3-4 tablespoons of tomato sauce to cover the bottom and prevent shells from sticking

⁃ Open each jumbo shell in the opposite direction of the natural roll, being sure they are not stuck together. Add about 1-1 1/2 tablespoon of filling into each shell. Place them, open side facing up, in the baking dish side by side until the entire tray is filled and there are no more gaps

⁃ Spoon a drizzle of sauce over each shell in the pan, then sprinkle shredded mozzarella or lay the sliced mozzarella directly on top.

⁃ *If freezing, stop here and continue with freezing directions that follow*

⁃ To bake, cover tray loosely with aluminum foil and bake for 30 minutes. Remove foil and bake for an additional 10-15 minutes or until cheese had become a golden color. Enjoy!
*Freezing directions:
⁃ Cover entire tray tightly with aluminum foil to be sure not air comes in, preventing freezer burn

⁃ When ready to eat, bake for 1 hour at 350 degrees with aluminum foil and an additional 10-15 minutes without aluminum foil to achieve golden brown color on cheese.

⁃ OR, remove tray from freezer and let thaw in refrigerator the night before you want to eat it, and make for 45 minutes with foil, 10-15 minutes without