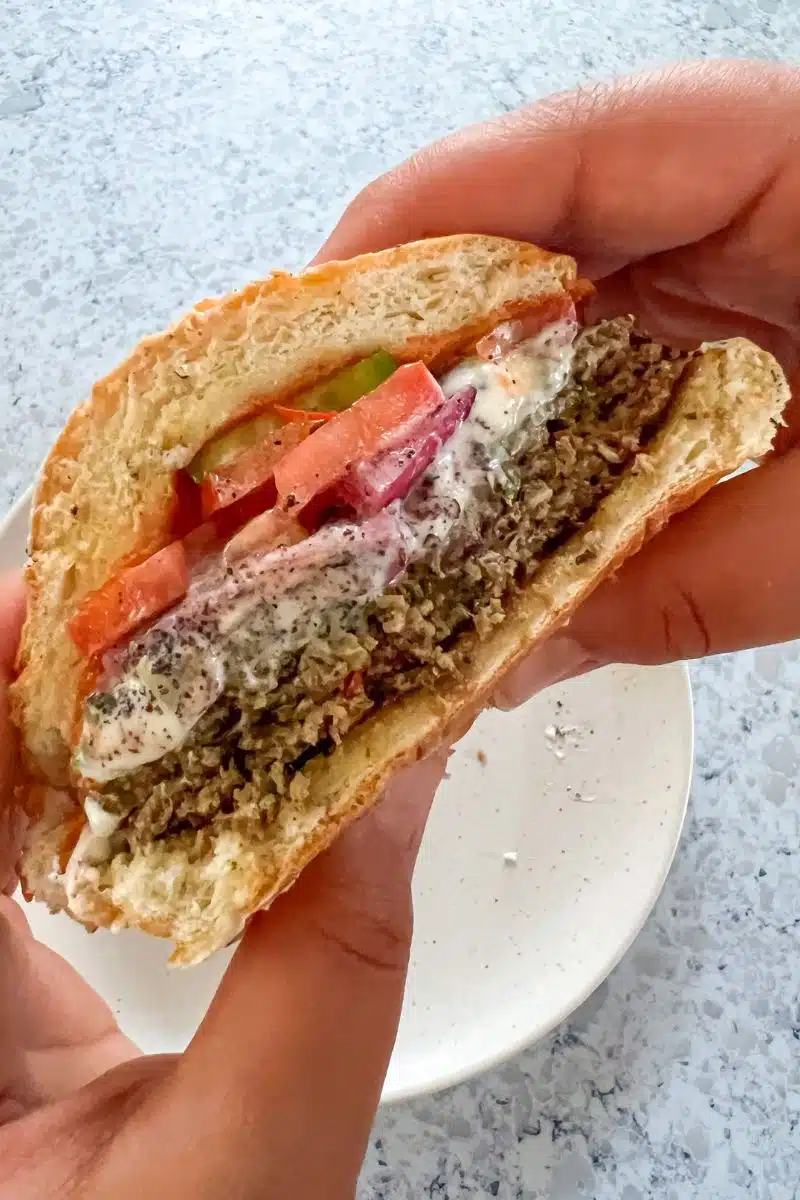 Last Updated on June 3, 2023 by Jacqueline Rafidi
Kifta burgers have been a hit around here lately. We've been loving them and I'm sure I've been brining the whole neighborhood out of their houses to get a smell of what's cooking.
Kifta, a spiced meat mixture, is typically made in kebab form and cooked on a skewer – preferrably over a charcoal grill. It's also made as suniyet kifta, kifta in a baking tray with potatoes and veggies. This dish can be made with a tahini sauce (my childhood favorite) or in a tomato sauce and commonly eaten with Arab rice pilaf and a salad.
This recipe came about when I was making burgers and decided to make half regular cheeseburgers and half kifta burgers. I LOVED how they came out and knew I wanted to share. Last year, we got a blackstone griddle and if you've seen my stories you'll know I've made breakfast, lunch and dinner on it! It's probably my favorite cooking tool in the warmer months. If you've seen my Instagram stories, you may have seen some of the things I make on it.
Kifta Burgers
The Kifta: The most important part of this recipe! I grind up all my veggies in a food processor to have everything chopped very finely. Add it right into the meat along with all the spices, salt and pepper and mix very well. You'll see little flecks of the veggies throughout the meat and they all (especially the ground onions) add a lot of flavor to the kifta burgers and keep them juicy while they're cooking. 7 spice is the main seasoning in this recipe. You can find it online or at your local Arab grocery store. If you can't find it, just add an extra teaspoon of allspice and 1/2 teaspoon of cumin.
The khiyar bil laban (cucumber yogurt sauce): Khiyar bil laban is one of my favorite summer side dishes. It's refreshing and goes SO well with any kind of barbeque or kebabs. If you're using Greek yogurt, I recommend adding 1 Tablespoon of water at a time to thin it out to your desired consistency. Greek yogurt on it's own makes this sauce a bit too thick.
The bun and toppings: A brioche bun works perfectly here. I like to toast it after cooking my burgers. It adds a nice color, added flavor from cooking the burgers on the same surface and a bit of crunch. Top the bottom bun with the patty, add the khiyar bil laban, sliced onions that have been tossed in sumac (a tangy, purple spice with a lemony kick), sliced tomatoes and cucumbers. Spread some harissa paste on the top bun for a bit of kick which I love, and enjoy!
I know these kifta burgers are going to be a hit for your family this spring and summer and can't wait to see your remakes!
Love burgers & sandwiches? Check out these recipes too!
When you make these kifta burgers, comment down below and rate this recipe to let me know your thoughts! Also share a picture or tag me on Instagram @thebitewithjackie, I love seeing your remakes!
Kifta Burgers
A classic Arab summer staple made into a burger!
Ingredients
For the kifta:
½

bunch parsley

1

medium yellow onion

quartered

½

red bell pepper

quartered

2

green onions

cut in thirds

3

cloves

garlic

1 ½

lbs

ground beef

1 ½

teaspoons

salt

1

teaspoon

allspice

½

teaspoon

coriander

2

teaspoons

7 spice

Pepper to taste
For the cucumber yogurt sauce (khiyar bil laban):
1 ½

cups

plain yogurt or Greek yogurt

2-3

Persian cucumbers

quartered and sliced thinly

2

medium cloves garlic

grated

1

handful dried mint

crushed

Salt to taste
For the toppings:
Brioche buns

Sliced onions tossed with sumac

Sliced tomatoes

Sliced cucumbers

Harissa

for a spicy topping

Sliced jalapenos

optional

Pickles

Pickled turnips
Instructions
Prepare the kifta. To a food processor, add the parsley, onions, bell pepper, green onions and garlic. Pulse together until everything is minced into small pieces. Add the ground beef to a mixing bowl along with the chopped veggies. Add the salt, pepper, allspice, coriander and 7 spice and mix well.

Make the cucumber yogurt sauce by adding the yogurt to a bowl with the chopped cucumbers. Grate in the garlic (very important that its grated and not minced), crush in the dry mint with your hands and sprinkle in some salt. Mix everything together well and set aside. If you're using Greek yogurt and find the sauce to be too thick, mix in 1 Tablespoon of water at a time till you get your desired consistency.

Form into patties slightly larger than the buns you're using – the meat shrinks as it cooks and doing this will ensure that your burger will cover the entire bun once you build your burger. I like thinner burgers (about ¼ inch thick) but make them your desired size. Add the burgers to a griddle, cast iron, or grill. Let them cook halfway through and develop a char, flip and cook on the other side to develop a char and reach desired doneness. Remember that the thicker the burger, the longer they'll take to cook.

Toast up the burger buns, place a patty on the bottom bun, top with the cucumber yogurt sauce, then the sumac onions, sliced tomatoes, sliced cucumbers, spread some harissa on the top bun before placing it on top and enjoy!