Last Updated on November 24, 2022 by Jacqueline Rafidi
This 2022 Thanksgiving menu is gonna be a good one! The holiday is right around the corner and we all know the stars of the show are the side dishes! Here is a nice line up to give you some inspo on what to make for the big day.
The Breakfast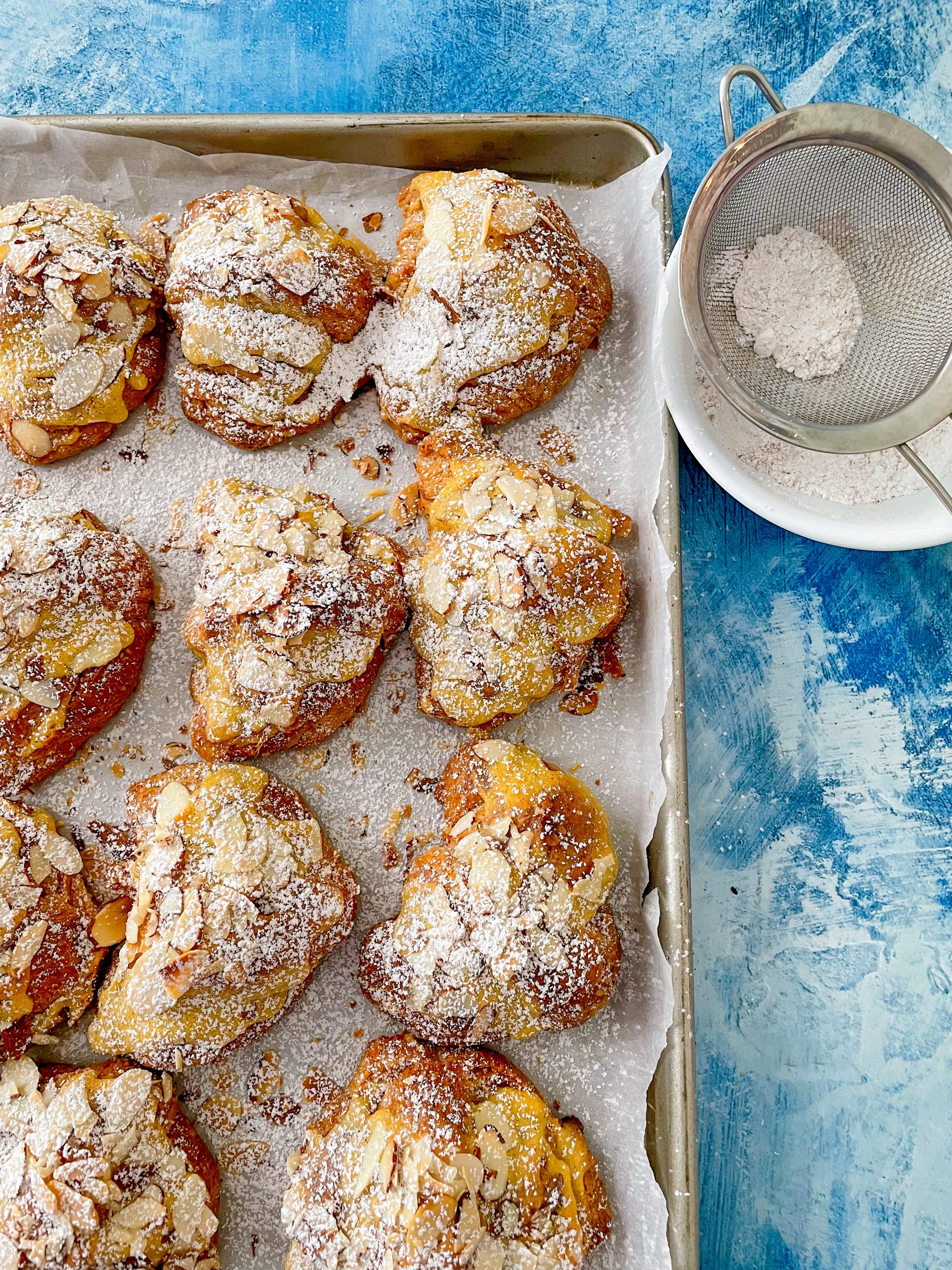 Pumpkin almond croissants are so easy and they use premade mini croissants!
Pumpkin butter french toast with pumpkin apple syrup
The best fluffy pancakes are always the right move. Try adding some chocolate chips and spiced pumpkin butter in them for a little extra flair!
The Turkey
Herb butter roasted turkey with white wine gravy – I make this every year and it's always a winner!
The potatoes
Buttery garlic herb mashed potatoes will rock your world and your guests won't be able to get enough! I might even suggest to double the recipe because we definitely can't run out of these!
Potatoes gratin is another show stopping dish. Cheesy and creamy potatoes – what's not to love?
The veggies
Lemon parm blistered green beans are one of my favorite ways to eat green beans. They're still crunchy and packed with flavor, I honestly eat these like french fries!
Fall salad with figs gorgonzola and pecans the simplest salad to put on your Thanksgiving table.
Lemon ricotta and herb stuffed mushrooms for a nice burst of freshness or sausage stuffed mushrooms for something more hearty
Fall roasted balsamic veggies because we need color and we love a roasted veg around here
The heartier sides
Classic stuffing but not the soggy kind! This is packed with Thanksgiving flair, crunchy on top and fluffy in the center!
Butternut squash risotto because it's always good to have a hearty vegetarian side!
Butternut squash mac and cheese as an alternative to the risotto listed above!
Hashweh because we literally cannot have a holiday without this
The desserts
Pumpkin roll cake with orange spiced cream cheese frosting – Beautiful to look at, and just delicious. PLUS it can be made ahead of time!
Simple apple cake – Made in one bowl and baked in Bundt form.
Pumpkin butterscotch cupcakes – I've been making these for Thanksgiving since I was about 9 years old and I don't plan on stopping!
Caramel pumpkin pecan cheesecake is just as amazing as it sounds!
Baklava cinnamon rolls are a HUGE hit!
The drinks
Thanksgiving apple sangria – I love this more and more every time I drink it
Enchanted orchard apple cider cocktail – Another cocktail to use up that apple cider!
Pomegranate witches brew – Yes, I know the name is very Halloweeny, but the drink itself works great for Thanksgiving!
Pumpkin butter white russian – consider this a dessert drink.
Sahlab is always a favorite this time of year
Apple cider hot chocolate for the kiddos and maybe the adults too!
The Leftovers
Turkey, butternut squash and garlic bechamel lasagna rolls are just too good to pass up! I love my side dishes, but I do enjoy revamping the turkey
Musakhan rolls with the turkey
Cranberry brie and date filo rolls with any leftover cranberry sauce!
When you make any of the recipes from this Thanksgiving lineup, comment down below and rate this recipe to let me know your thoughts! Also share a picture or tag me on Instagram @thebitewithjackie, I love seeing your remakes!